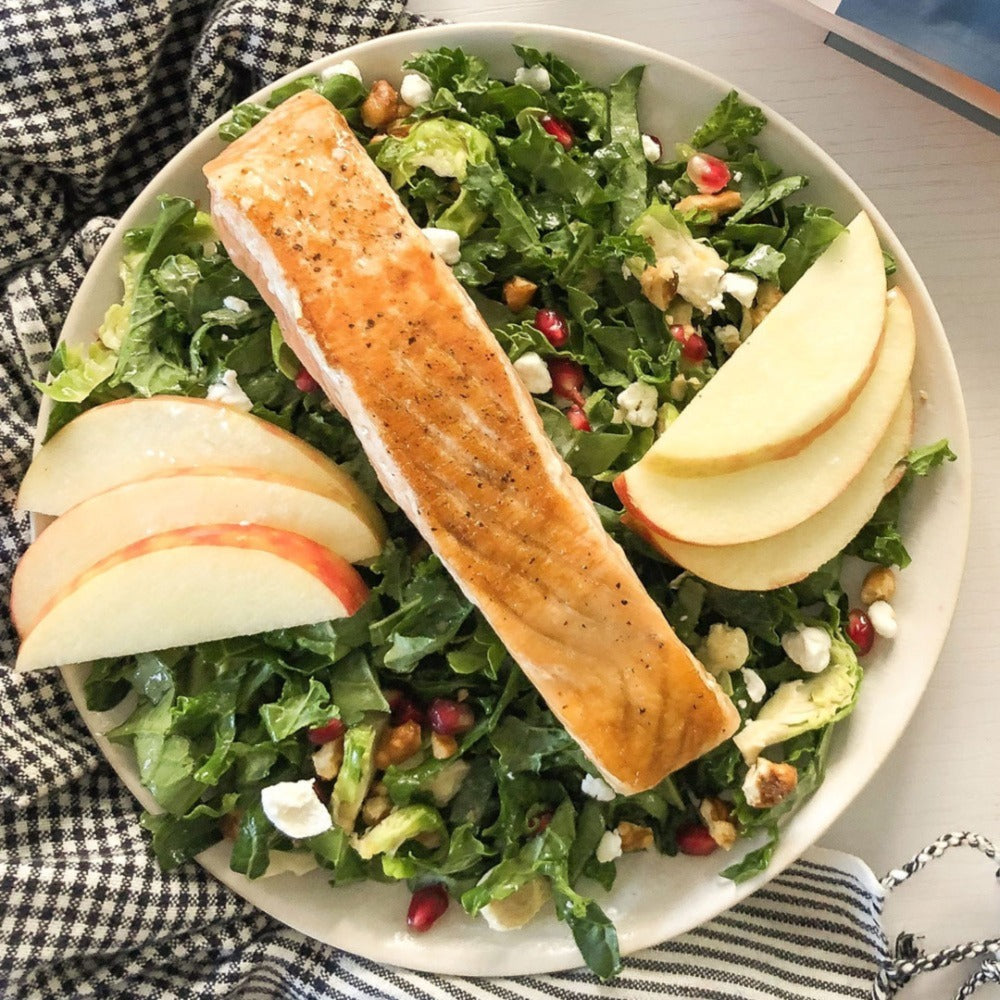 Recipe courtesy of DANCING for DONUTS
This seasonal Autumn Salmon Salad comes together in just 10 minutes and uses our sustainably sourced Atlantic Salmon paired with fall harvest favorites like honey crisp apples, Brussel sprouts and candied walnuts.
Ingredients
For the salad:

1/4 cup crumbled goat cheese
1/3 cup pomegranate seeds
1 honey crisp apple sliced
1/4 cup candied or regular walnuts
4 cups of kale
2 cups of shredded Brussel sprouts or sliced & pulsed in a food processor
For the vinaigrette:

1/2 lemon juiced
2 tbsp Lakanto Maple Syrup or traditional Maple Syrup
2 tbsp Dijon mustard
1/4 cup Extra Virgin Olive Oil
1/2 tsp cinnamon
Sea Salt & Black Pepper
1 cup pico de gallo
Pickled radishes (regular sliced radishes would work well too
Instructions
Heat skillet (if you have one!) or pan over medium heat for 3-5 minutes. Dry the salmon with a paper towel for the ultimate crisp and season the skin lightly with salt. Add a tablespoon or so of oil (I like avocado oil) to the skillet and then lay the piece of salmon down away from you so that the oil doesn't splash. It should make a sizzling noise – that's how you'll know the pan is hot enough! Cook the salmon on the skin side for about 5 minutes and while that's searing, toss together the kale, sprouts and Maple Dijon Vinaigrette (recipe below). I like to massage the dressing into the kale and sprouts with my hands to help soften them. After 5 minutes, turn the salmon over and give it a quick 1–2 minute sear on the other side. Plate the salad for two and top each with a salmon filet. Add the apple, pomegranate seeds, walnuts and goat cheese and a pinch of salt on top if desired.
For Maple Dijon Vinaigrette:
In a medium-sized bowl, whisk together all the ingredients. Add salt and pepper to taste and store in an airtight container in the fridge.