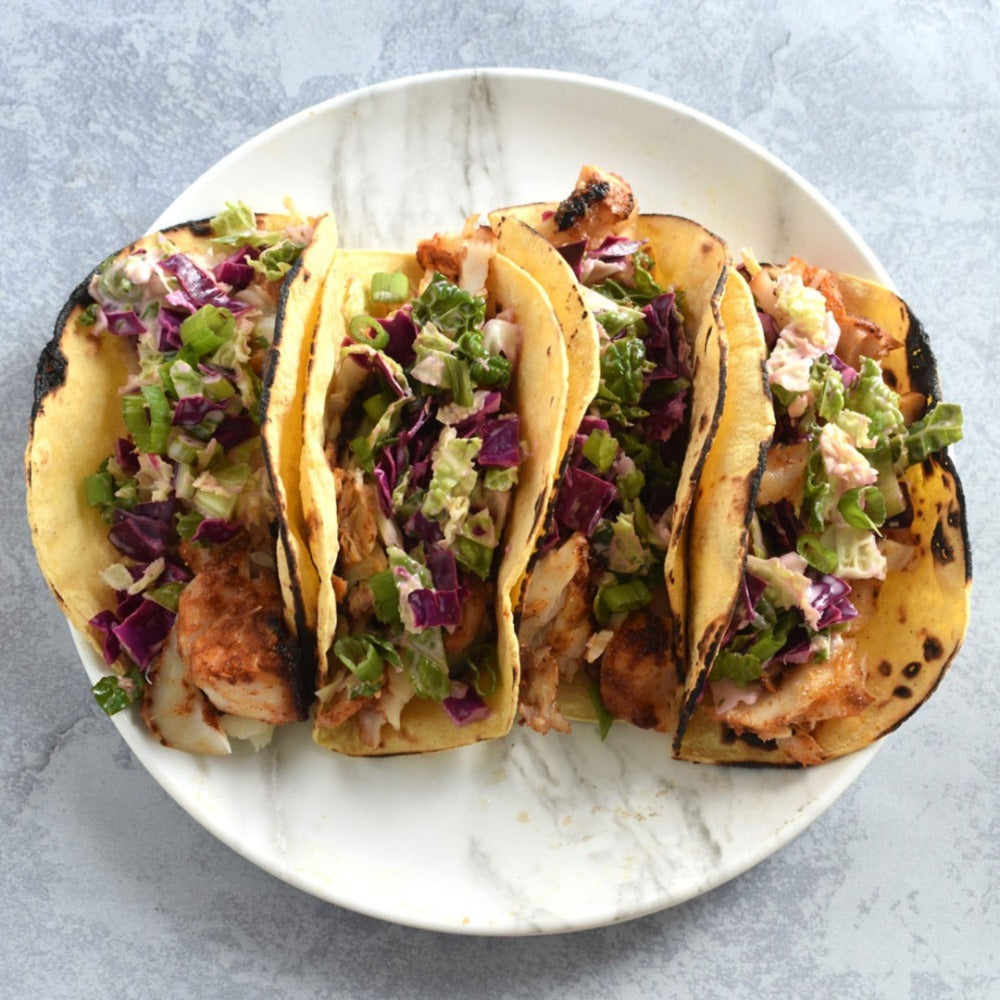 These Blackened Cod Tacos masterminded by
Hey Modest Marce
are actually good for you, plus they cook up in less than 30 minutes. Made with our Marine Stewardship Council-approved Frozen Wild-Caught Cod Fillets, they are packed with beneficial protein and nutrients. Simply coat our cod fillets in smoky, spicy herbs then bake to seal in all that yummy flavor. Top with your favorite garnishes (we like red cabbage, crumbled feta, and cilantro), sit back and enjoy.
Ingredients
Corn tortillas 2-3 per person
1 cup red cabbage
1/2 cup cilantro
1/2 cup feta
1 lime cut into wedges
1 tbsp smoked paprika
1 tsp cayenne pepper
1 tsp ground cumin
1 tsp dried oregano
1 tsp garlic powder
1 tsp dried thyme
1 tsp sea salt
1/2 tsp freshly ground black pepper
1 tbsp melted butter or olive oil
Sea salt & pepper to taste
Instructions
Combine spices, salt, and pepper in a small mixing bowl. Stir until combined. Preheat oven to 400 degrees and place defrosted cod on a baking sheet. Brush fillets generously with melted butter or olive oil. Coat with prepared spice mixture. Bake for 8 to 10 minutes. While cod is baking, prep taco toppings. Roughly chop cilantro, thinly slice red cabbage, and crumble feta. Set aside. Shred baked cod into bite size flakes using two forks. Fill corn tortillas with shredded cod. Top with red cabbage, crumbled feta cheese, cilantro, and lime wedge. Enjoy Blackened Cod Tacos for the win!