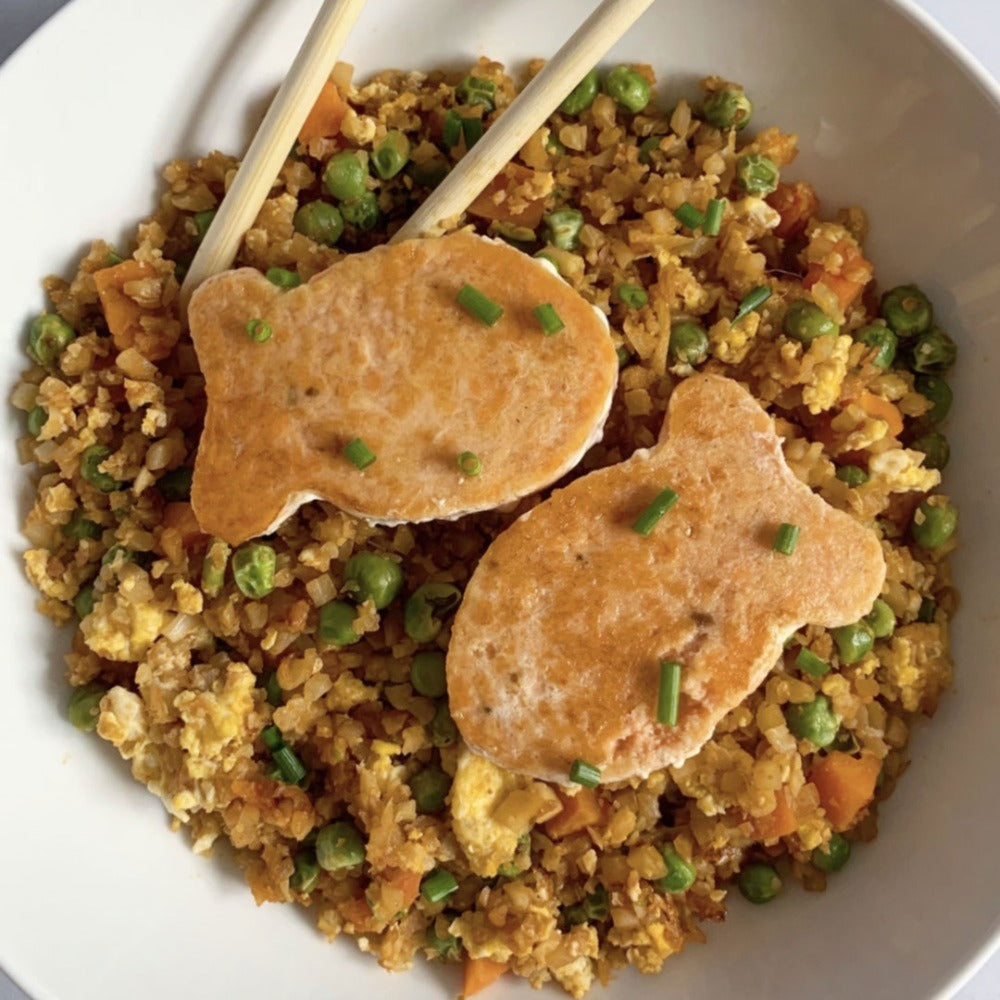 Restaurant-style fried rice might sound intimidating but it's actually super simple and can be prepared from scratch in less than 30 minutes. This Happy Fish Fried Rice can easily be customized with your own favorite veggies and ingredients, so the final dish is exactly how you like it. We like this fried rice from
Delish
with lots of carrots, peas, garlic, and ginger topped with Happy Fish for an extra boost of protein.
Ingredients
1 package of Atlantic Salmon Happy Fish
3 tbsp. sesame oil divided
3 large eggs
Kosher salt
2 carrots diced
3 green onions thinly sliced, white and green parts divided
3 cloves garlic minced
1 tbsp. peeled and minced ginger
4 c. cooked long grain rice
3/4 c. frozen peas
3 tbsp. soy sauce
Instructions
For the Fried Rice:
Heat a large cast iron skillet over high heat until very hot, about 2 minutes. Add 1 tablespoon oil. Beat egg with 2 teaspoons water and a large pinch salt and add to skillet. Cook, stirring to form large soft curds, about 30 seconds. Transfer to a plate. Return skillet to high heat and add 2 tablespoons oil, the carrots, and whites of the green onions. Cook until lightly golden, about 2 minutes. Add garlic and ginger and cook, stirring, until fragrant, 1 minute. Add rice, peas, and cooked eggs to skillet. Pour in soy sauce and cook, stirring until heated through, 1 minute. Season with salt and pepper and stir in the remaining green onions. Top rice with pan-seared Happy Fish.
For the Pan-Seared Happy Fish:
Heat 2 tsp. olive oil in skillet over medium-high heat. Place frozen Happy Fish in skillet. Cook for 3-4 minutes per side. (Note: Prepare Happy Fish from frozen. Do not thaw prior to cooking.)