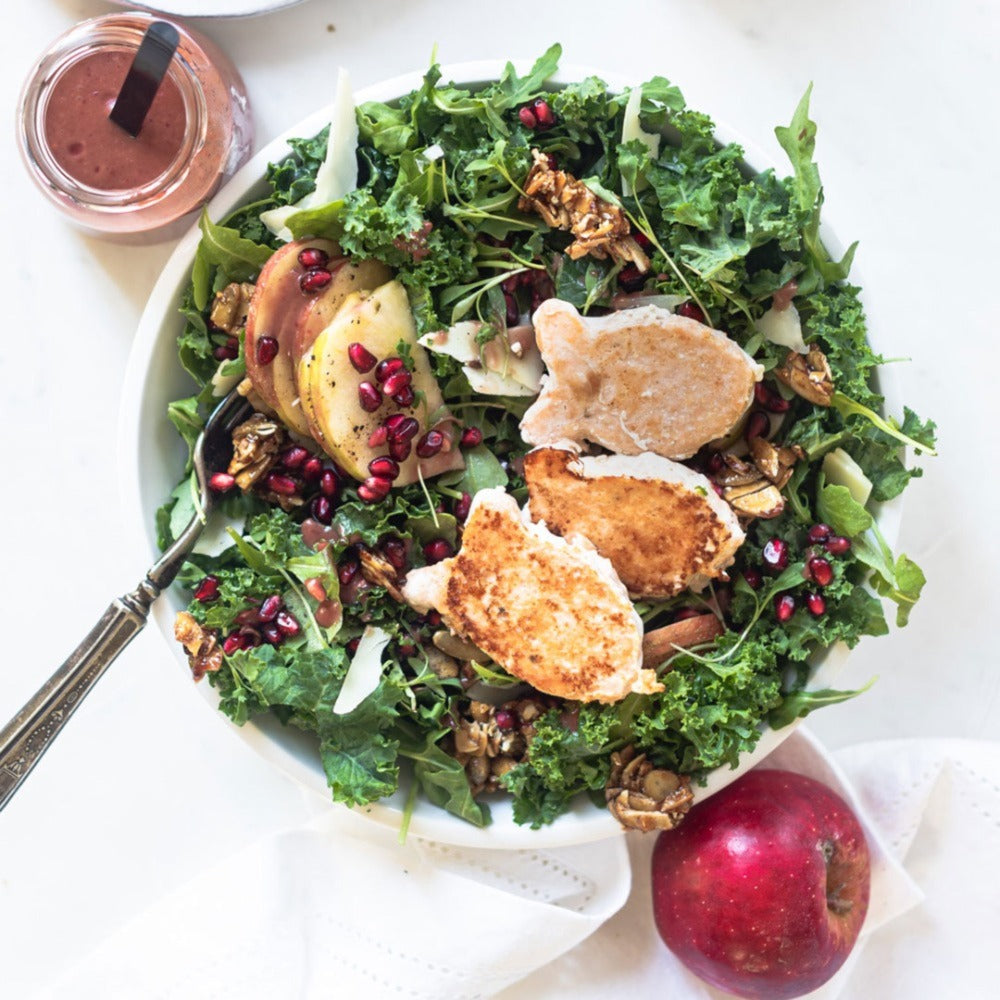 Recipe courtesy of Nourish Deliciously
We're saying welcome to winter with this Harvest Kale and Happy Fish Salad and Pomegranate Tahini Dressing. If you're into healthy meals full of greens, quality proteins and seasonal vegetables, this recipe is a must try. This salad incorporates our favorite seasonal produce and family friendly Happy Fish, frozen fish-shaped bites made with our sustainably raised salmon and packed with antioxidants and health-boosting omega-3s.
Ingredients
For the salad:

2 tablespoon maple syrup
1/3 cup raw sliced almonds
¼ teaspoon pumpkin spice or cinnamon
1 package Atlantic Salmon Happy Fish
2 heads curly kale torn into bite sized pieces; middle steam removed
1-2 Small delicate squash sliced
1 tablespoons olive oil
Arils from 1 pomegranate
Gruyere cheese optional, about 1/4 cup shaved
For the dressing:

1 tablespoon tahini
1 tablespoon pomegranate syrup or 3 tablespoons pomegranate juice
1/4 cup extra virgin olive oil
1 clove garlic thinly sliced
2 tablespoons apple cider vinegar
Sea salt and pepper to taste
A little water to thin as needed
Instructions
In a small skillet add the maple syrup, about 1 tablespoon water and bring it to a boil. Cook for 3 minutes till it starts to thicken. Take it off the heat and add the pumpkin spice and almond slices. Mix the sliced almonds well till we coated and leave it to cool. To make the dressing blend all the ingredients until smooth. Add water to thin as needed. Poach or grill the salmon according to the package instructions, about 4 minutes each side. Set aside. Heat the oven to 375F. Place the delicate squash and brush with olive oil. Bake for 8-10 minutes till cooked, but still firm. Meanwhile, in a large salad bowl massage half the dressing with kale leaves. Let it sit for 10-15 minutes allowing the leaves to soften (this also makes it easier to eat raw kale). Right before serving add the sliced almonds, delicate squash slices, pomegranate and gruyere if using and serve with the salmon. Pour the remaining dressing over the salad if needed, tossing to combine. Enjoy!