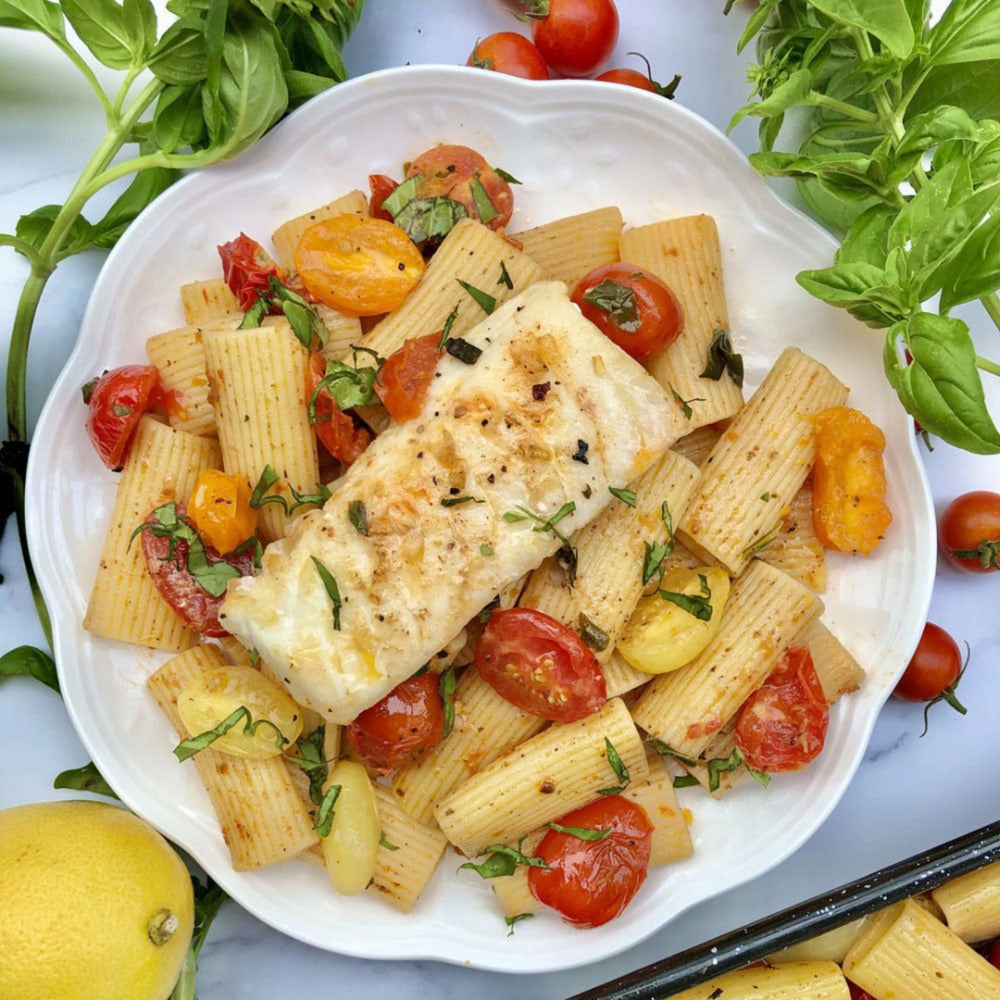 The fresh tomatoes and basil in this summery pasta are bursting with seasonal flavor. Pair it with our mild yet firm Wild-Caught Atlantic Cod for a balanced dinner—you can grill or sauté the fish, chef's choice!
Ingredients
For the sauce:

4 tablespoons olive oil
3 large cloves of garlic
1/2 teaspoon crushed red pepper flakes
2 cups cherry tomatoes cut in half
2 cups vegetable stock
1/2 cup fresh basil finely chopped
2 tablespoons lemon juice
1/2 teaspoon salt
1/2 fresh ground pepper
For the pasta and cod:

4 cups cooked pasta of choice
3 tablespoons pesto
2 tablespoons ricotta cheese
4 cups reserved water from pasta boil
1 package Wild-Caught Icelandic Cod
2 tablespoons olive oil
Salt + Pepper to taste
Instructions
For the Tomato Basil Sauce:
Heat olive oil in a large sauté pan. Add crushed red pepper flakes and garlic. Sauté for about 1 minute. Add cherry tomatoes and cook for about 5-6 minutes, until soft. Add in vegetable stock, stir, and allow the mixture to come to a gentle simmer. Add the basil, lemon juice, salt, and pepper and cook for about 2 minutes. Transfer the sauce into a bowl and set aside until needed.
For the Pasta:
Cook your desired pasta as instructed. Once the pasta is cooked, save 2 tablespoons of pasta water. Drain the pasta and place into an empty pot. Stir in the reserved pasta water, Tomato Basil Sauce, pesto, ricotta cheese into the pot with the pasta. Stir and toss the pasta until everything is well combined, and then transfer to plates.
For the Cod:
Preheat oven to 380 degrees (F). Heat olive oil in a large sauté pan. Season both sides of Cod with salt and pepper. Place Cod in the sauté pan and cook for about 5 minutes until each side is lightly brown. (Remember that Cod is very delicate, so be gentle when flipping the cod over!) Once the Cod is done, place both the Tomato Basil Sauce and Cod into an oven pan. (Make sure to leave some Tomato Basil Sauce to sauté the pasta) Bake for about 5-8 minutes or until Cod is cooked through.