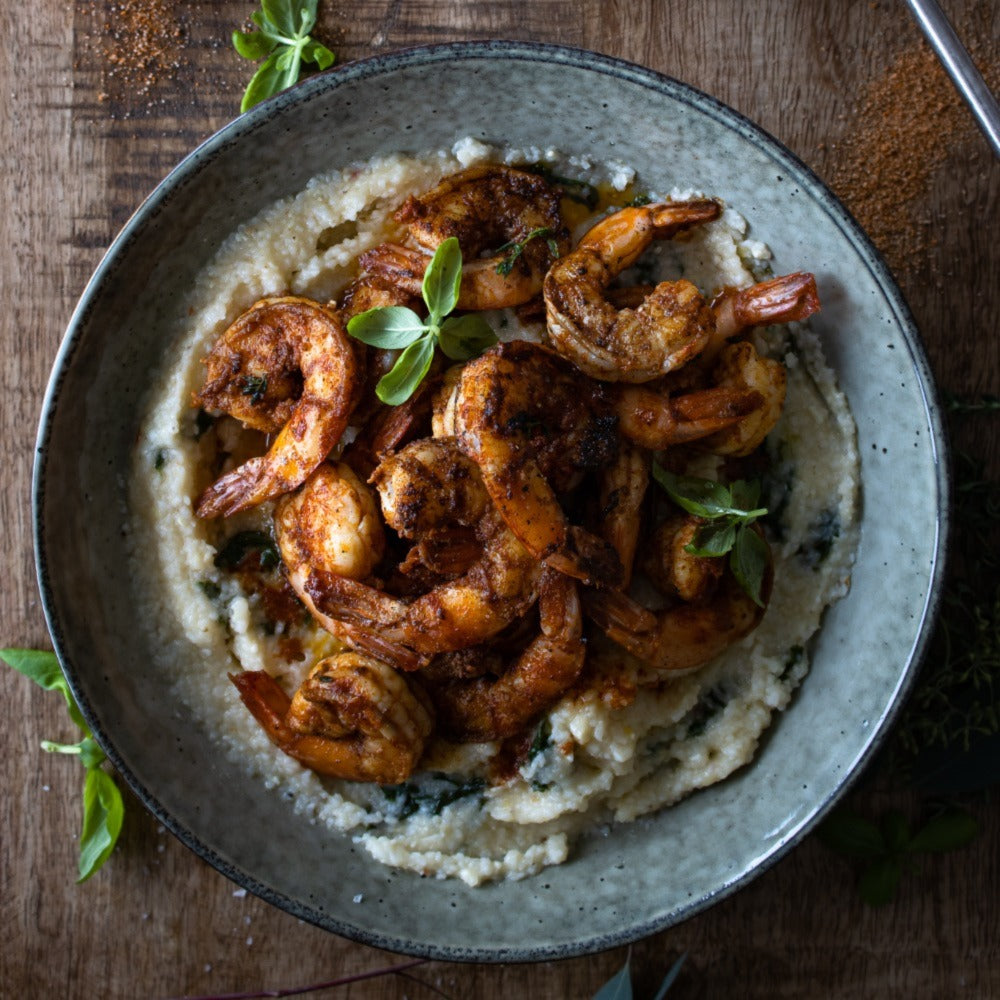 This delicious recipe is deceivingly simple! The wonderfully seasoned shrimp and cheesy polenta takes only 30 minutes from start to finish. Plus, the unique flavor profile is sure to wow your family and friends.
Ingredients
For the Shrimp:

1-pound  Colossal Black Tiger Shrimp, tail on or off
1 tbsp. Cajun seasoning
1 tbsp. extra virgin olive oil
2 tbsp. butter
3 cloves garlic minced
1 tsp fresh thyme
For the Polenta:

1 and 1/2 cups of dry instant polenta
3 cups water
1 cup milk
5 tbsp. butter
1/2 bunch kale chopped
1/3 cup Asiago Parmesan or Pecorino Romano, grated
salt
pepper
Instructions
For the Shrimp:
Pat the shrimp dry, then toss with the Cajun seasoning and add a little bit of salt and pepper as well. Heat the olive oil in a large cast iron skillet on Medium High. Add the shrimp and sear on both sides until pink, about 2-3 minutes. Add 2 tablespoons butter, the garlic, and 1 tablespoon thyme, toss to coat and cook until the garlic is fragrant and caramelized, about 1-2 minutes. Remove from the heat.
For the Polenta:
In a medium saucepan bring the water and the milk to a boil over medium heat. Slowly whisk in the polenta, stirring, until the polenta is soft and thick, about 5 minutes. Stir in the butter and kale and keep stirring until the kale has wilted and the butter has melted–then stir in the cheese and Season with salt and pepper. Keep warm. Divide the polenta among bowls and drizzle with olive oil. Add the shrimp and then spoon the reserves from the pan over the shrimp. and garnish with fresh basil. Enjoy!