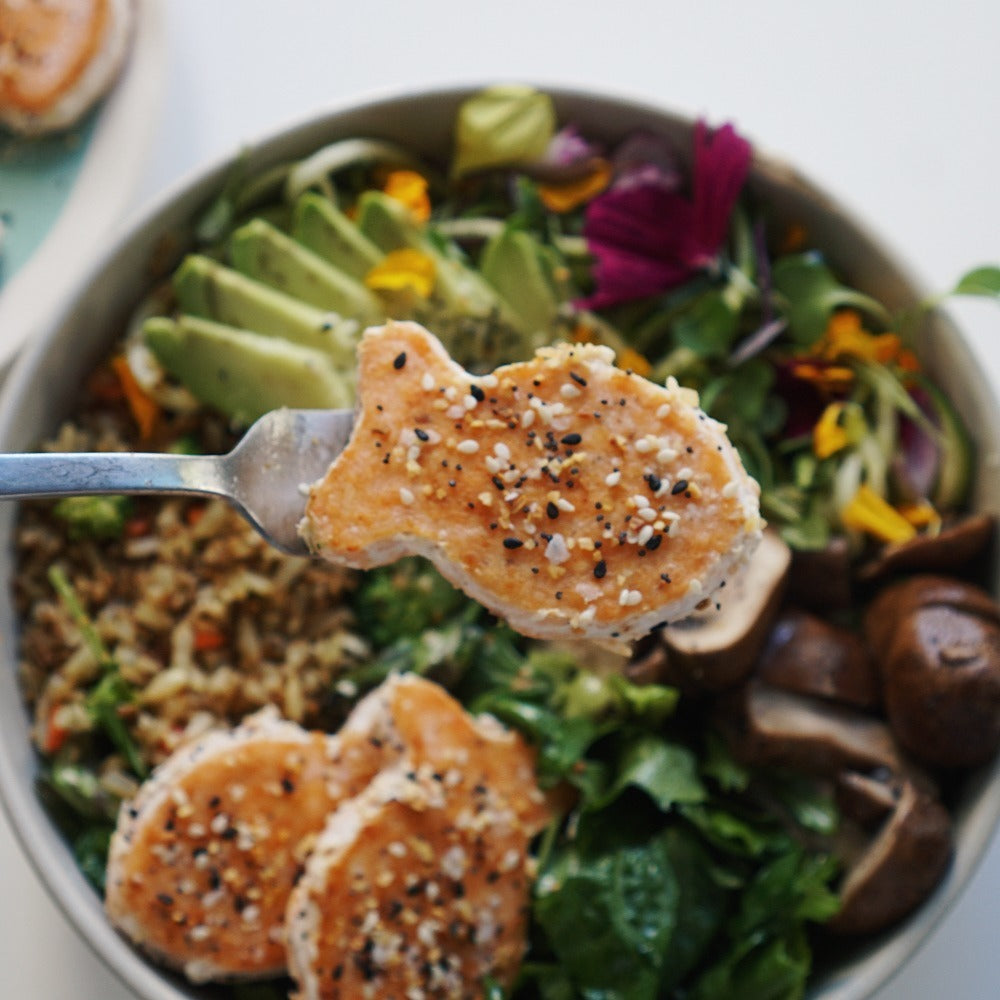 Recipe courtesy of live the little things.
Get more seafood on your table with these Happy Fish Balance Bowls! If you are looking into ways to incorporate more fish into your diet, but don't know where to start, we highly recommend this simple and quick recipe featuring Happy Fish. This recipe is paleo and keto-friendly, and packed with tons of nutritious veggies like cauliflower, carrots, broccoli, and mushrooms. And the Happy Fish is topped with crunchy, delicious Everything Bagel seasoning that you can use in other recipes.
Ingredients
For the salad:

2 cups arugula
2 cups spinach
2 cups lettuce chopped
2 zucchini spiralized
5 tablespoons olive oil
1 lemon rind and juice
Pink salt to taste
For the cauliflower rice:

4 cups Cauliflower Rice
1/2 cup chopped mint
1/2 cup chopped cilantro
1/2 cup shredded carrots
1/2 cup roughly chopped broccoli
1 garlic clove minced
2 tbsp coconut oil
1 lemon rind and juice
2 tablespoon red wine vinegar
Pink salt to taste
Black pepper to taste
1 cup mushrooms halved
For the everything bagel seasoning:

1 1/2 tbsp sesame seeds
1 1/2 tsp black sesame seeds
1 tsp onion flakes
1 tsp poppy seeds
1/2 tsp garlic flakes
1/2 tsp flaked salt like Maldon brand. Can use kosher salt
Optional Garnish:

Microgreens and edible flowers
1/2 avocado sliced and fanned out
Instructions
Cauliflower Rice: In a skillet, heat coconut oil on a medium to high heat. Add in cauliflower rice, mushrooms, mint, cilantro, carrots, broccoli, garlic, and sauté for about 4-5 minutes. Remove from heat. Add in lemon juice and red wine vinegar. Season with salt and pepper. Salad: In a large mixing bowl, combine all ingredients, tossing together to coat evenly with olive oil and lemon juice. Plate Salad, Cauliflower Rice, Happy Fish and garnish with ¼ avocado, microgreens, and edible flowers.
For the Pan-Seared Happy Fish:
Heat 2 tsp. olive oil in skillet over medium-high heat. Place frozen Happy Fish in skillet. Cook for 3-4 minutes per side and season with everything bagel seasoning. (Note: Prepare Happy Fish from frozen. Do not thaw prior to cooking.
Notes
For the Everything Bagel Seasoning, combine all ingredients and store in an airtight container