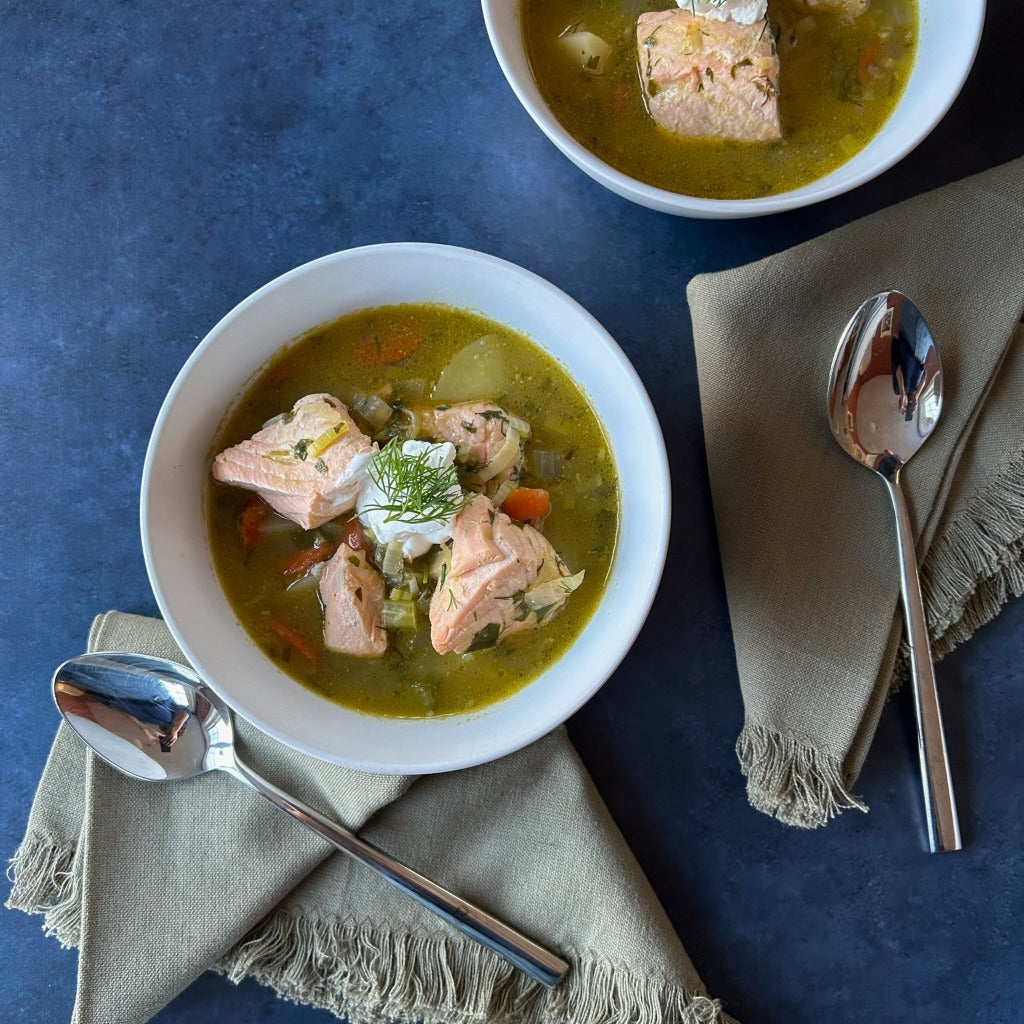 This recipe is a hearty and flavorful soup that combines salmon and fresh vegetables in a savory broth. It's perfect for a cozy meal on a chilly evening. The soup starts with sautéing leeks, onion, carrots, and celery in olive oil before adding potatoes, broth/stock, and letting it simmer for 20 minutes. The salmon is then added to the pot along with fresh dill and parsley for a burst of flavor. Optional garnish of sour cream and fresh dill adds a creamy and tangy finish to each bowl. This soup is sure to warm you up from the inside out and leave you satisfied.
Ingredients
3 tbsp Extra Virgin Olive Oil
1 Leek, white & light green portion, sliced thin
1 Yellow Onion (small), diced
1 Carrot (large), bias cut
2 stalks Celery, chopped
5 cups Vegetable Broth* or Seafood Stock
1 lb Potatoes, rough diced
½ cup Fresh Dill, chopped (reserve 2 teaspoons for garnish)
½ cup Fresh Parsley, chopped
Instructions
Preheat a medium sized soup pot or Dutch oven over medium heat. Add the olive oil and once it shimmers, add the leeks and onion and sauté for 4 minutes stirring frequently. Add carrots and celery and sauté for 2 minutes. Add the potatoes and broth/stock and increase heat. Bring to a boil and then lower to a simmer. Let simmer for 20 minutes and add the salmon, dill (reserve 2 teaspoon for garnish if desired) and parsley. Cook for 5 minutes. Optional: Garnish each soup bowl with a dollop of sour cream and fresh dill.