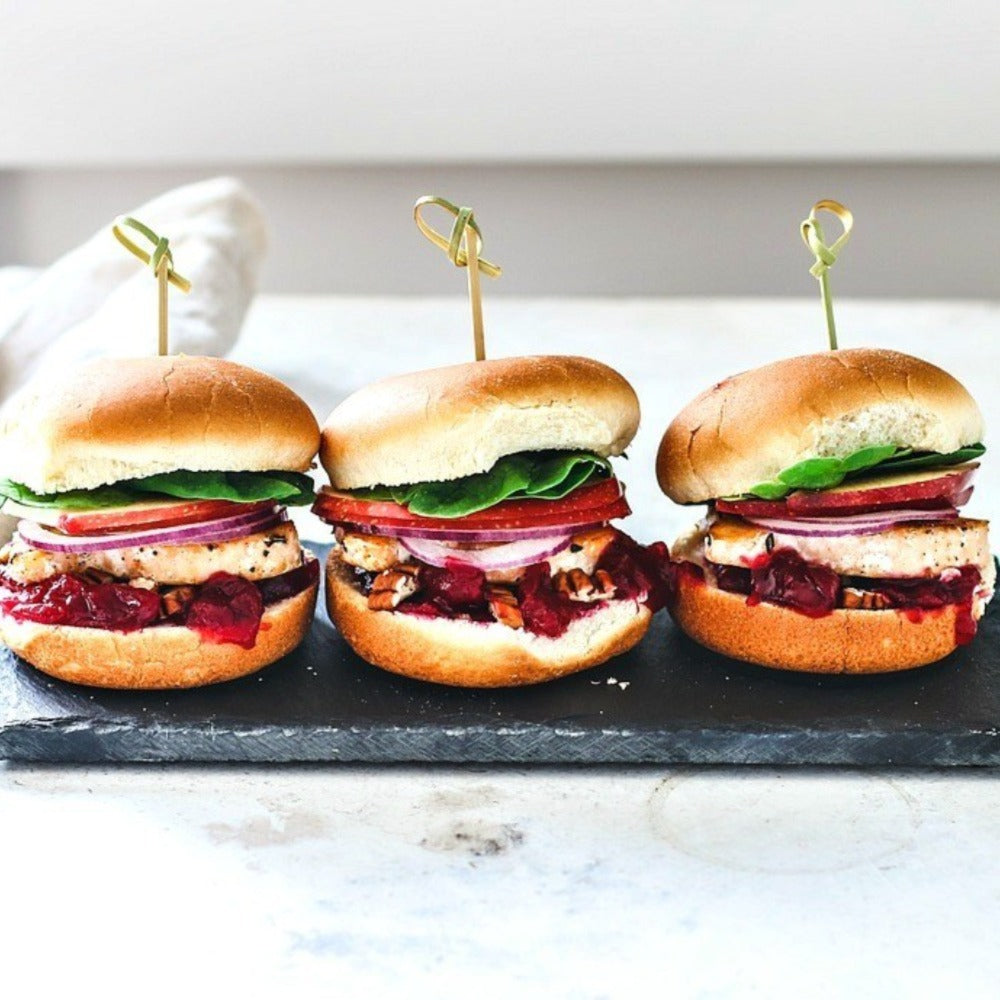 These sweet and savory Happy Fish sliders are slathered with cranberry sauce and topped with crisp apples, toasted pecans, red onion, and spinach. Made with Happy Fish, fish-shaped salmon bites that contain only our sustainable Atlantic Salmon, sea salt and white pepper, these sliders are super easy, seasonal, and perfect for passing around a hungry crowd.
Ingredients
For the sliders:

8 Slider Buns
8 Fillets of Atlantic Salmon Happy Fish fillets
1-2 tsp of olive oil
2 tsp finely chopped fresh rosemary
1 cup cranberry sauce
1/3 cup chopped toasted pecans
1 sweet apple thinly sliced (I like to use gala or honey crisp)
Thinly sliced rings of red onion about 2 rings per slider
Fresh baby spinach leaves
For the cranberry sauce:

1 12 oz bag of fresh cranberries
1/4 cup fresh-squeezed orange juice can also use good quality store-bought
1 TBSP orange zest
1/2 cup pure maple syrup
*makes 3 cups
Instructions
Heat olive oil in a saucepan with the freshly chopped rosemary. Once the oil is shimmering, add the frozen Happy Fish fillets to the pan and cook for 4-6 minutes, or until fillets have an internal temperature of 145º F, flipping the fillets halfway through. While the fillets cook, slather 2 TBSP of cranberry sauce over the bottom of each slider bun. (I like to put the cranberry sauce on the bottom bun since it hits the palate first.) Then sprinkle toasted pecans* over the cranberry sauce on each slider bun. Carefully transfer the salmon fillets to each slider bun, placing over top of the cranberry sauce. Then, top the fillets with some apple slices, onions, and spinach. Place top slider bun on top and secure with a sandwich pick (optional).
For the Homemade cranberry sauce:
In a medium saucepan, whisk together the orange juice, orange zest, maple syrup, and 3/4 cup of water over medium heat. Simmer, stirring occasionally, until everything is combined and fragrant. Rinse the cranberries and add them to the saucepan. Bring everything to a boil, then reduce the heat and let the mixture simmer until the cranberries have burst and the sauce has thickened, about 15 minutes. Remove from heat and let the cranberry sauce cool completely before serving.