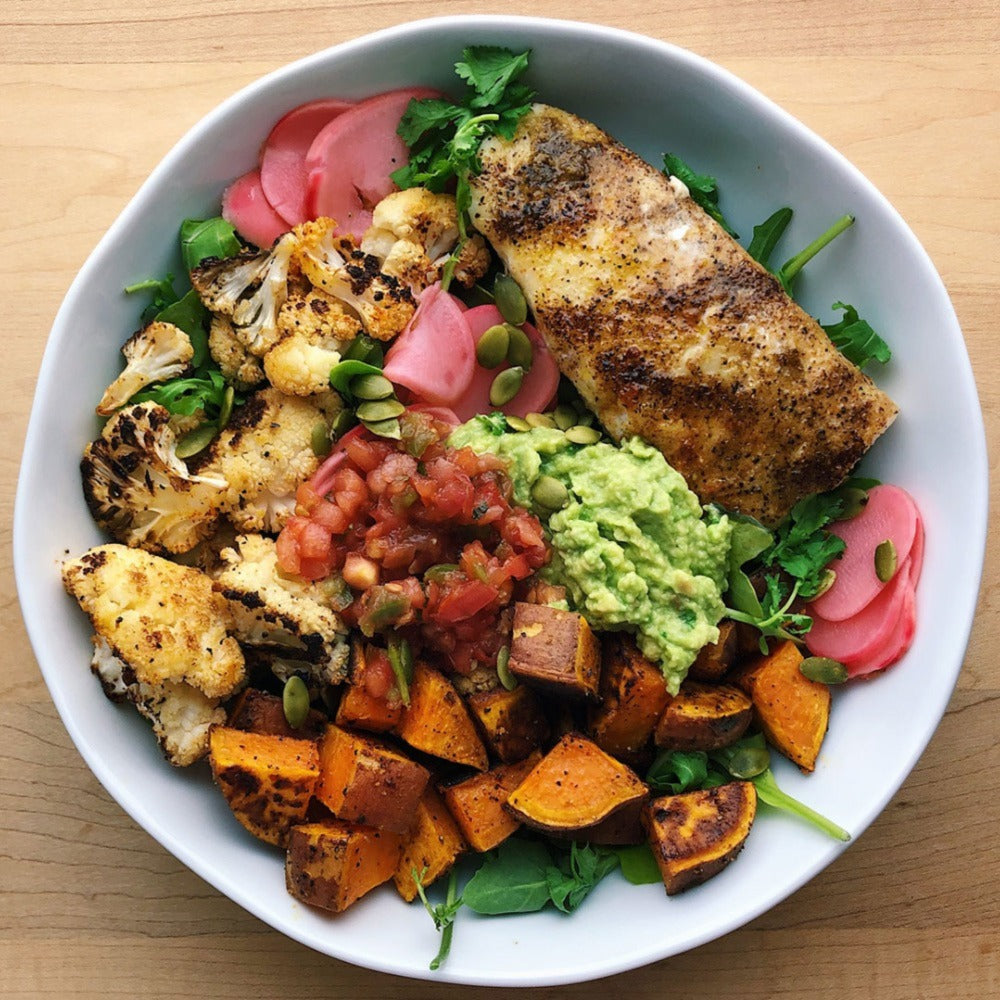 Recipe courtesy of MOLLY CLEARY NUTRITION.
Are you unsure about where to start when cooking fish? We recommend using our wild-caught, certified and 100% traceable Atlantic Cod. Our frozen Atlantic Cod fillets are mild and can be paired with a lot of different seasonings. In this recipe, we pair flakey cod with goodies like roasted sweet potatoes and cauliflower, pumpkin seeds and pickled radishes, but these Atlantic Cod Taco Bowls can be topped with any of your favorite ingredients for an easy and healthy meal. You can also cook the cod in this recipe straight from frozen - that's right, no thawing required! Simply add them to the oven at the same time as the veggies. Be sure to place the cod in a foil packet to reduce moisture evaporation and then check to be sure the internal temperature is 145 and you can enjoy!
Ingredients
Wild-Caught Icelandic Cod, seasoned with
1 tablespoon olive oil
½ teaspoon chili powder
½ teaspoon paprika
½ teaspoon garlic powder
¼ teaspoon salt
¼ teaspoon black pepper
2 sweet potatoes cubed
1 large head of cauliflower
1 avocado
1 tablespoon lime juice
¼ cup cilantro more for garnish if desired
¼ cup pumpkin seeds
4 cups arugula
1 cup pico de gallo
Pickled radishes (regular sliced radishes would work well too)
Instructions
Pre-heat oven to 400F. Cut the sweet potato into cubes and the cauliflower into bite sized pieces. Toss with olive oil, paprika, salt, and pepper. Roast for 30 minutes, turning halfway through. Place cod on a baking sheet and brush cod with olive oil. Then sprinkle seasoning mixture over the top. Put cod in the oven when the vegetables have 10 minutes left. Mash avocado and mix with lime juice, cilantro, and a little salt. Assemble your bowls. Start with the arugula as a base. Then add your roasted vegetables and cod. Top with mashed avocado, pico de gallo, and radishes.