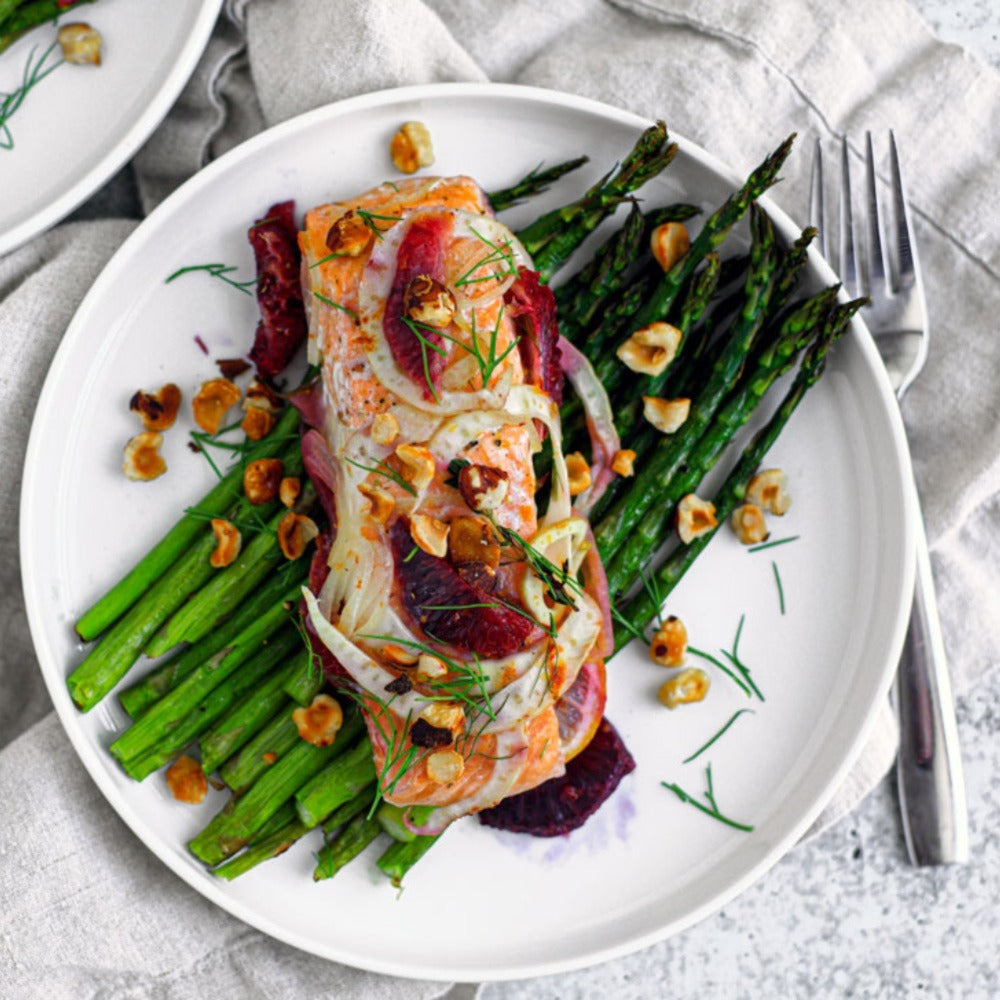 En papillote may sound fancy, but it's actually a hassle-free cooking technique where meat, usually fish, is sealed in a folded parcel of parchment or foil then baked. The great thing about en papillote is that it delicately steams the fish, soaking up the flavors of your other ingredients. And, if you wrap your fish in foil, the cleanup is a breeze. In this recipe for Baked Salmon in Parchment with Blood Orange and Fennel,
Killing Thyme
pairs our Frozen Atlantic Salmon Fillets with juicy blood orange and crisp fennel for a tasty seasonal twist on traditional lemon and dill.
Ingredients
2 5 oz fillets of Norwegian Atlantic Salmon
Kosher salt and pepper to taste
1/2 cup thinly sliced fennel about 1/2 of a bulb I recommend slicing it with a mandolin on the first and thinnest setting.
2 blood oranges
Zest of one blood orange
1 lemon
1/2 of a large shallot or one small shallot, thinly sliced
2 TBSP dry white wine
1 tsp olive oil
fennel fronds for garnish
1/4 cup roughly chopped toasted hazelnuts for garnish (optional)
Instructions
For the Fennel & Blood Orange Medley:
Place fennel and blood orange zest in mixing bowl. Cut a blood orange into supremes (we like Martha Stewart's tutorial) and add to the bowl. Squeeze in juice from the leftover core. Add shallots. Drizzle with olive oil and top with fennel fronds. Season with salt and pepper and toss ingredients to coat.
For the Baked Salmon in Parchment:
Preheat the oven to 425º F. Blot salmon fillets with a paper towel and sprinkle with salt and pepper. Cut 1/2 the zested blood orange and 1/2 the lemon into thin slices. Place slices onto each segment of parchment paper. Place the salmon fillets on top of the citrus and top with the medley. Squeeze the remaining blood orange and lemon halves over each fillet, then splash with a little dry white wine. Once assembled, fold one side of your parchment or foil over the fish. Fold over the other side, enclosing the fish. Twist the parchment ends and secure with butchers' twine. Bake for 15-17 minutes, or until the fillets are opaque and flake easily with a fork. While the fish bakes, toast hazelnuts in a dry pan over medium heat for about 3-5 minutes, shaking the pan to prevent burning. The nuts will be golden and aromatic when they're ready. Serve in parchment or transfer the fillets, along with the blood orange and fennel medley, to a plate. Top with fennel fronds and toasted hazelnuts.