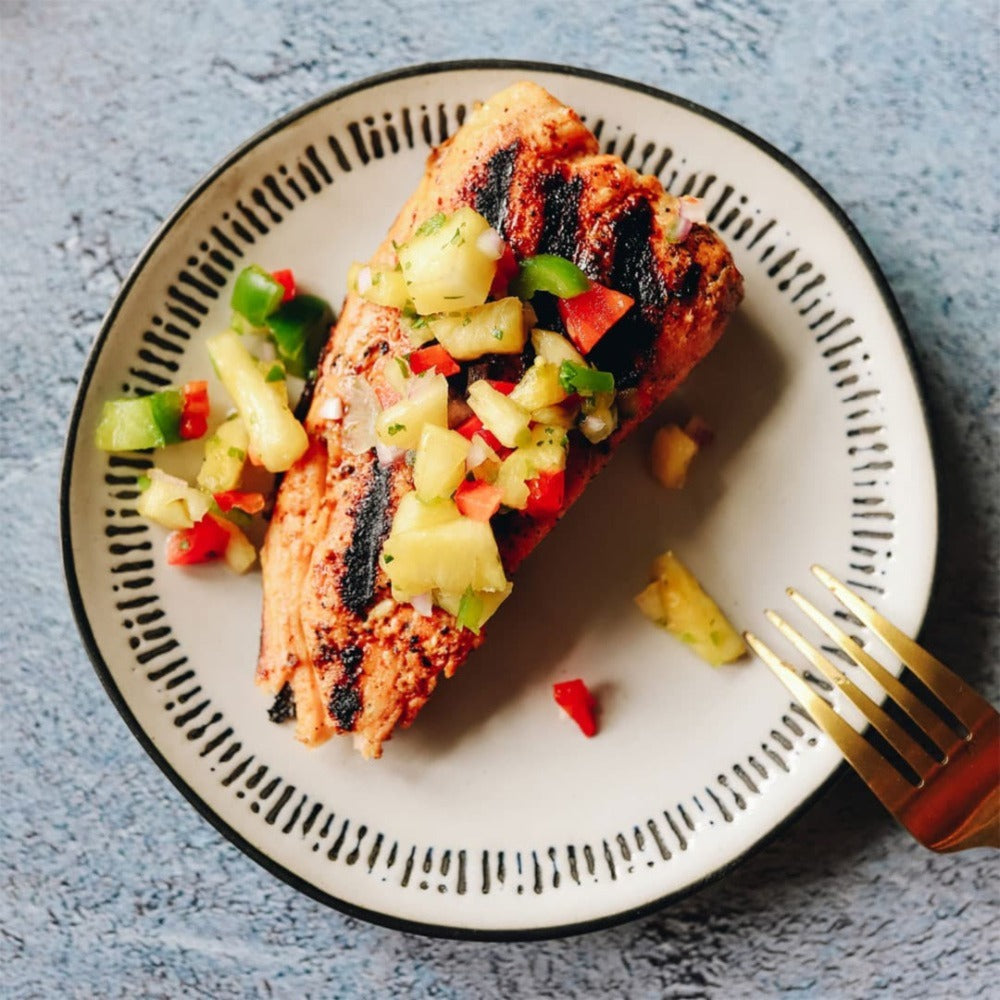 This sweet and spicy salmon recipe from Whisks and Wildflowers is perfect for patio eating. Cook the salmon grilled or in your oven and top with a generous portion of pineapple salsa to balance out the Cajun notes of cayenne and garlic.
Ingredients
For the Salmon:

1 package of Norwegian Atlantic Salmon defrosted
¼ cup olive oil or vegetable oil
Salt and pepper to taste
4 tbsp unsalted butter softened
1 tbsp honey
1 tsp garlic powder
1 tsp paprika
1 tsp cayenne pepper
1 tsp ground chipotle pepper
For the Pineapple Salsa:

1 small pineapple cored and diced
½ red bell pepper
½ green bell pepper
¼ red onion minced
1 serrano pepper minced
Juice of 1 lime
¼ cup fresh cilantro chopped
½ tsp sea salt
Instructions
For the Salmon:
Preheat oven to 450 degrees Fahrenheit. Pour ¼ cup of olive oil on the bottom of a baking sheet. Lay the salmon fillets on the baking sheet, skin side down. Sprinkle with salt and pepper. Whip the softened butter until fluffy and add honey, garlic powder, paprika, cayenne pepper, and chipotle pepper. Mix thoroughly. Spread a generous layer of the Cajun honey butter on top of the salmon. Grill skin side down for 4-6 minutes and skin side up for 1 minute. Serve the salmon and top with the Pineapple Salsa.
For the Pineapple Salsa:
Mix all of the ingredients into a large bowl and store in the refrigerator until ready to use.