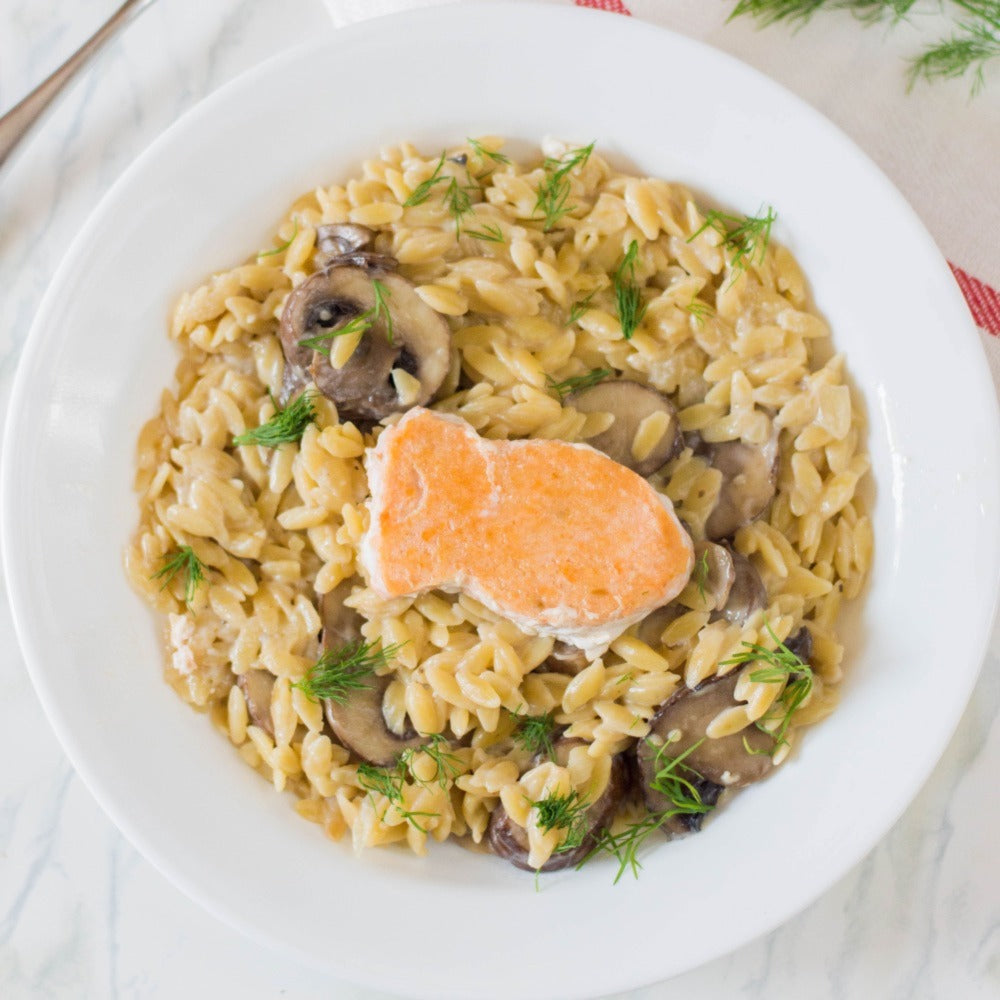 Recipe courtesy of Fabulous Habits
Looking for a healthy dinner that'll have your whole family asking for more? We love this creamy orzo topped with pan-seared Happy Fish. We get that it can be challenging to find a meal that is both healthy and tasty, especially if you have a picky eater in the family. This comforting pasta dish hits all the marks — not only is it warm and cozy for the chilly days ahead, but it's topped with our Happy Fish salmon patties, which are a great source of protein and omega-3s without any additives or preservatives.
Ingredients
3-4 tbsp extra virgin olive oil divided
1 small onion diced
3-4 cloves garlic minced
1 1/4 cups chopped brown mushroom
3 cups dried orzo
2 cups homemade chicken stock you can also use water
2 cups whole milk
Ground pepper to taste
1 pack of Atlantic Salmon Happy Fish
Sprigs of fresh dill
Instructions
In a Dutch oven, Heat 1-2 tbsp. EVOO over medium-high and add onion – sauté for about 2 minutes. Add garlic and mushrooms and cook until fragrant, about 3 minutes. Add orzo, chicken stock and milk. Bring to a boil. Cover and reduce heat, allowing to simmer for 10 minutes. Remove from heat and sprinkle with black pepper. Fold to incorporate all ingredients with one another. In a nonstick pan, heat 1-2 tbsp EVOO over medium high. Add Happy Fish frozen salmon patties to the heated nonstick pan and sauté for 2 minutes on each side. (Yup, that's right: you can cook it straight from the freezer. Easy peasy, right?!) Serve creamy orzo on individual plates and top off with cooked Happy Fish salmon. Garnish with fresh dill.