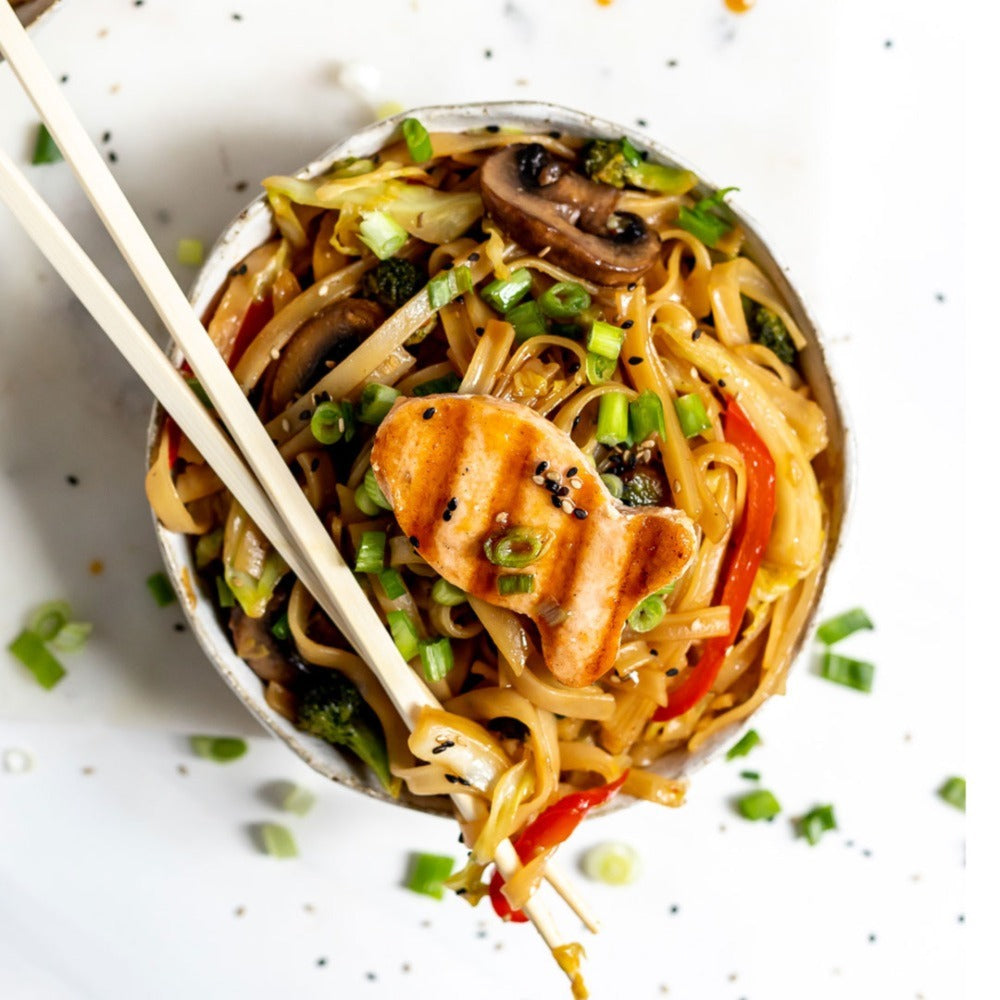 Recipe courtesy of Wonky Wonderful
These Ginger Soy Stir Fry Chinese Noodles with Happy Fish are a simple homemade way to enjoy your favorite take-out food. Made with fresh, flavorful, wholesome ingredients like vegetables, rice noodles and a sticky soy ginger sauce topped with our sustainable salmon bites, this copycat take-out recipe is comfort food at its best!
Ingredients
For the Stir Fry:

1 Package Atlantic Salmon Happy Fish
8 ounces Rice Noodles prepared according to instructions
1 Lb. Crimini Mushrooms sliced thick
8 ounces Broccoli trimmed & separated
1 Yellow Bell Pepper seeds removed, sliced thin
1 Red Bell Pepper seeds removed, sliced thin
2 Cups Shredded Green Cabbage
3 Tablespoons Oil
For the ginger soy sauce:

2 Tablespoons Oil
1/3 Cup Soy Sauce
1/3 Cup Honey
1 teaspoon Grated Fresh Ginger
4 Garlic Cloves grated
1 teaspoon Chili Paste optional
Toppings
2 teaspoons Sesame Oil
Sliced Green Onions
Sesame Seeds
Instructions
Heat thin layer of oil in grill pan over medium/high (2-3 minutes). Grill Happy Fish for 1 – 2 minutes each side. Set aside. Prep all ingredients before beginning the stir fry process. Veggies, noodles, and sauce. Heat 3 Tb oil in large wok over high heat (2-3 minutes). Add mushrooms to wok, stir fry for 3 minutes. Add broccoli and fry 3 minutes. Add peppers, cabbage a drizzle of oil. Fry 5-7 minutes. Add drained noodles and sauce. Toss to coat evenly and stir fry for 2-3 minutes or until sauce is sticky and thick. Remove from heat, stir in 2 tsp sesame oil. Top with green onions and sesame seeds Serve with 1-2 Happy Fish on top.
Notes
For additional sauce while serving, mix equal parts soy sauce and honey to drizzle over finished dish. (optional)