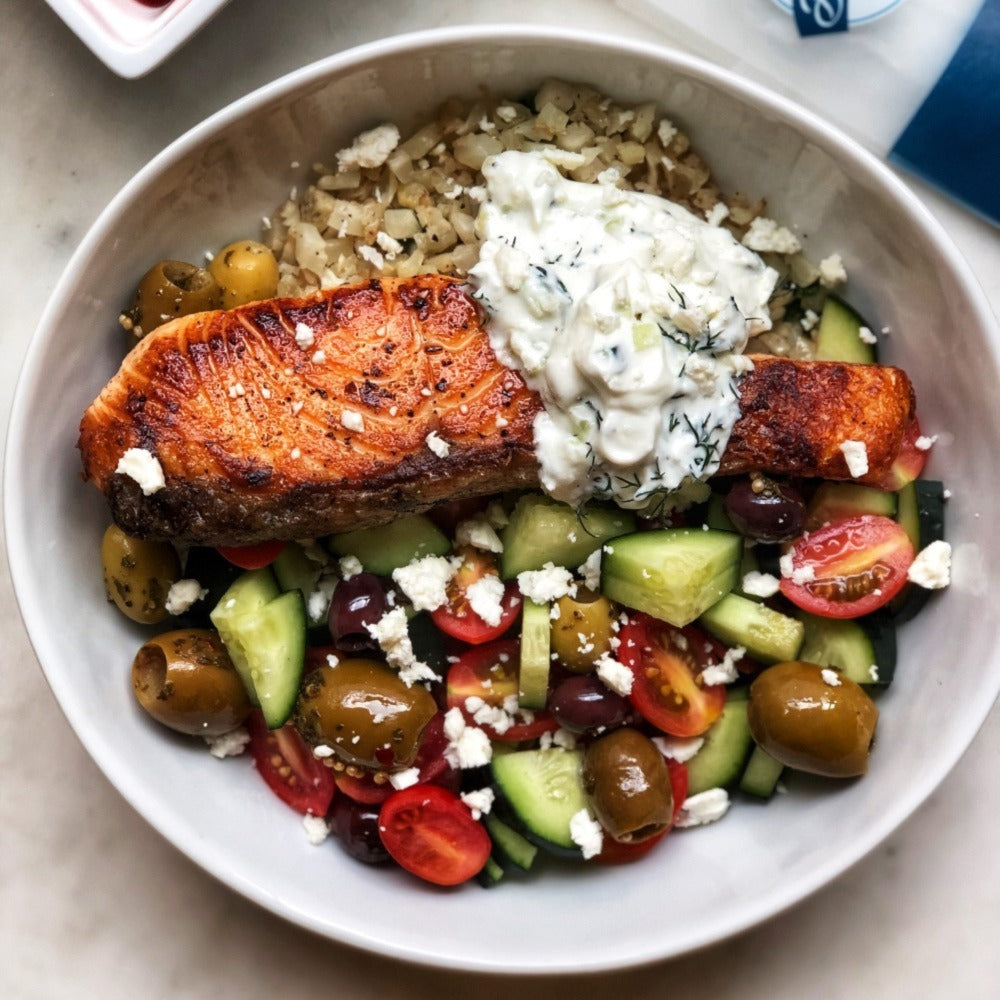 Recipe courtesy of Rebecca Lilly
Greek salmon salad for everyone! If you are trying to make your salad more interesting and flavorful, we strongly recommend this recipe. Because it's easy to make and has super nutritious, salad is often our go-to food. However, we totally get tired of making the same old salad every day. This delish recipe for Greek Salmon Salad is the answer — it's full of crunchy veggies, salty olives and feta, bright lemon juice and of course, our rich, pan-seared Atlantic Salmon.
Ingredients
For the salad:

1 cup of cauliflower rice
Olive oil
Salt
Pepper
1 tsp oregano
Cucumbers
Tomatoes
Olives
Feta
Lemon juice
Paprika
For the Tzatziki:

2 tbsp yogurt
1 tbsp finely chopped cucumber
1/2 lemon- juiced
2 cloves garlic- minced
a sprinkle of salt and pepper
1/2 tbsp olive oil
1 tbsp fresh dill
Instructions
Sauté 1 c cauliflower rice in 1 tbsp olive oil, a dash of salt and pepper and 1 tsp oregano for 5 minutes. Top with cucumbers, tomatoes, olives, and feta. Sauté Blue Circle Foods Atlantic Salmon with olive oil, lemon juice, paprika, salt and pepper Top with a dollop of your homemade tzatziki and enjoy!
For the Homemade Tzatziki:
For your homemade tzatziki, mix together ingredients until evenly distributed.