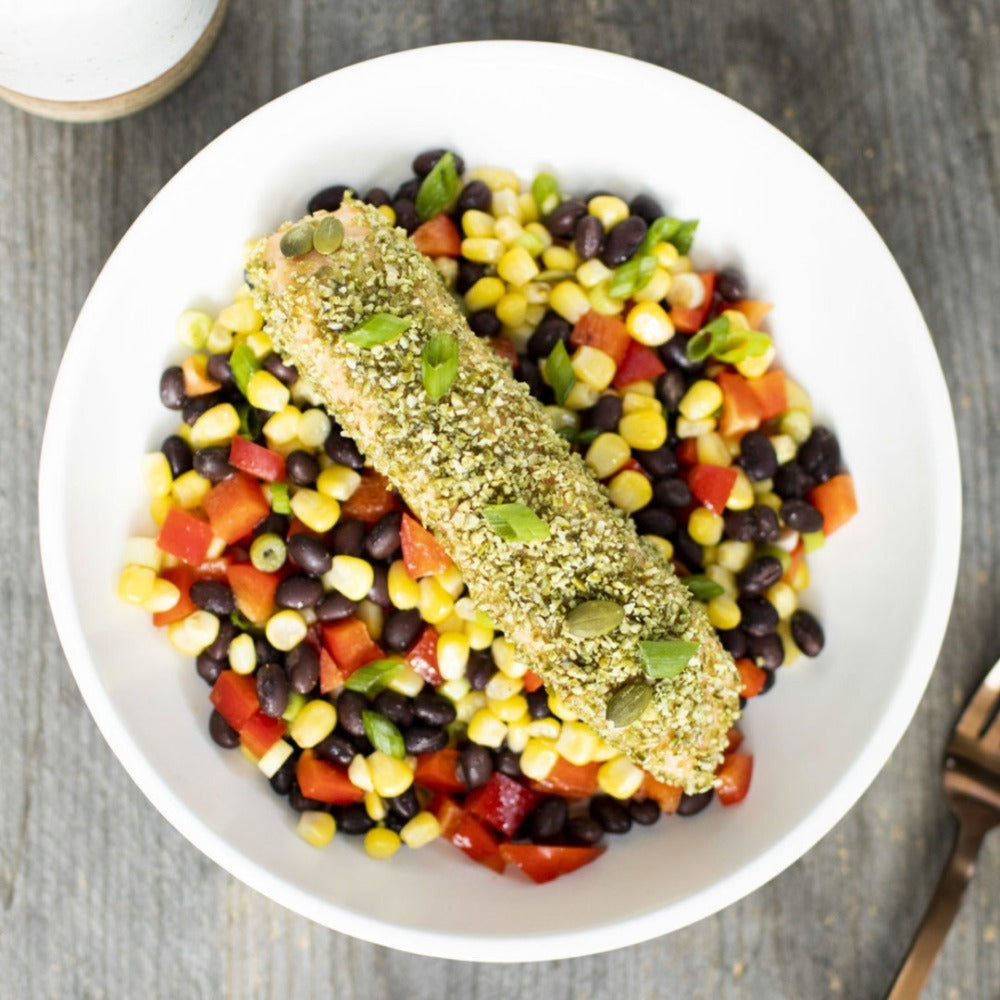 In this easy one-pan recipe, James Beard Lifetime Achievement Award winner Chef Nora Pouillon tops our sustainable salmon fillets with a delightfully crunchy pumpkin seed crust. If you don't have salmon on hand, try it with our Wild-Caught Cod! Our resident expert, winemaker Alexis Pouillon of Domaine Pouillon Winery recommends pairing this dish with a rosé, such as their Grenache Cinsaut blend made in the Province rosé style.
Ingredients
Norwegian Atlantic Salmon cooked from frozen
½ cup pumpkin seeds
2 teaspoons pumpkin seed oil or olive oil
1 tablespoon sliced scallions
2 cups frozen sweet corn kernels
1 can 4 oz black beans, rinsed and drained
¼ cup cilantro chopped
1 ½ tsp. ground cumin
½ tsp. smoked chili optional
Salt and pepper to taste.
Instructions
Preheat oven to 375 degrees. Mix corn, black beans, cilantro, ground cumin and smoked chili together. Season with salt and pepper. Spread onto a baking dish. Pulse pumpkin seeds, salt, black pepper, oil, and sliced scallions in a blender until it forms a paste. Coat frozen salmon fillets with pumpkin seed paste. Place fillets in baking dish on top of black bean and corn salad, and drizzle with olive oil. Bake at 375 degrees for 25 – 30 minutes.