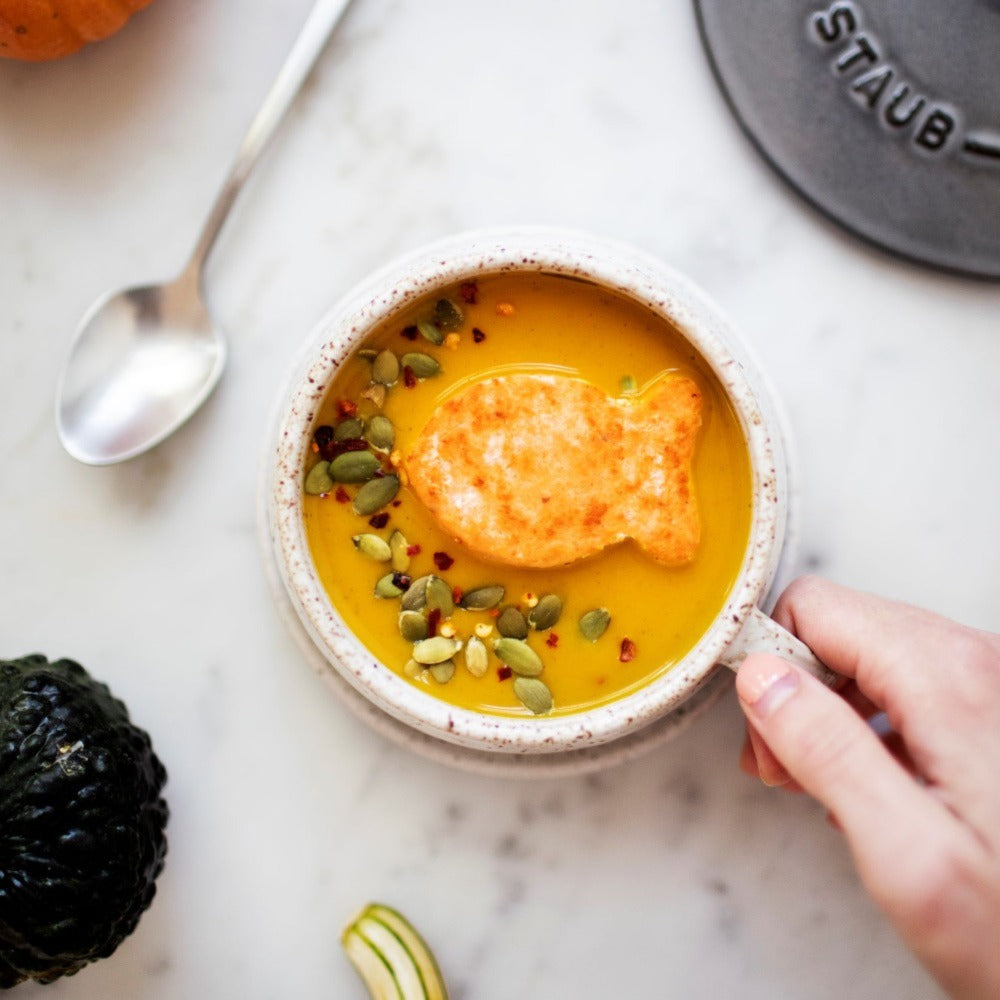 Recipe courtesy of MODEST MARCE.
Fall is soup season! Most of us look forward to diving into a bowl of warm soup on a cozy autumn day. This colorful curried butternut squash + carrot soup is exactly what you need in chilly weather. Made with our Happy Fish salmon bites, it's warm, seasonal, and flavorful. You can serve the fish on top as a garnish or on the side for protein.
Ingredients
1 package of Atlantic Salmon Happy Fish
2 tablespoons extra virgin olive oil
2 cloves of garlic minced
1 teaspoon fresh ginger minced
1 medium onion finely chopped
Salt & pepper to taste
1 1/2 pounds butternut squash peeled & cubed
1-pound carrots peeled & diced
1 teaspoon ground turmeric
1/2 teaspoon coriander
1/4 teaspoon cumin
1/4 teaspoon ground cinnamon
1/4 teaspoon ground nutmeg
1/4 teaspoon red pepper flakes
4 cups low sodium chicken stock or vegetable stock
1 1/2 cups full-fat coconut milk
Pumpkin seeds to garnish
Instructions
For the Soup:
In a large pot over medium heat add the oil, garlic, ginger & onion. Season with salt & pepper. Sauté until the onion begins to turn translucent, about 5 minutes. Add the butternut squash & carrots. Cook until softened, about 10 minutes. Season with turmeric, coriander, cumin, cinnamon, nutmeg & red pepper flakes. Pour in the chicken stock & bring to a boil. Reduce mixture to a gentle simmer, cover with lid & cook for 45 minutes. Using an immersible hand blender, add the coconut milk & puree the soup until smooth. Cook for an additional 15 minutes. ladle into bowls, top with pumpkin seeds & a Happy Fish!
For the Pan-Seared Happy Fish:
Heat 2 tsp. olive oil in skillet over medium-high heat. Place frozen Happy Fish in skillet. Cook for 3-4 minutes per side. (Note: Prepare Happy Fish from frozen. Do not thaw prior to cooking.)