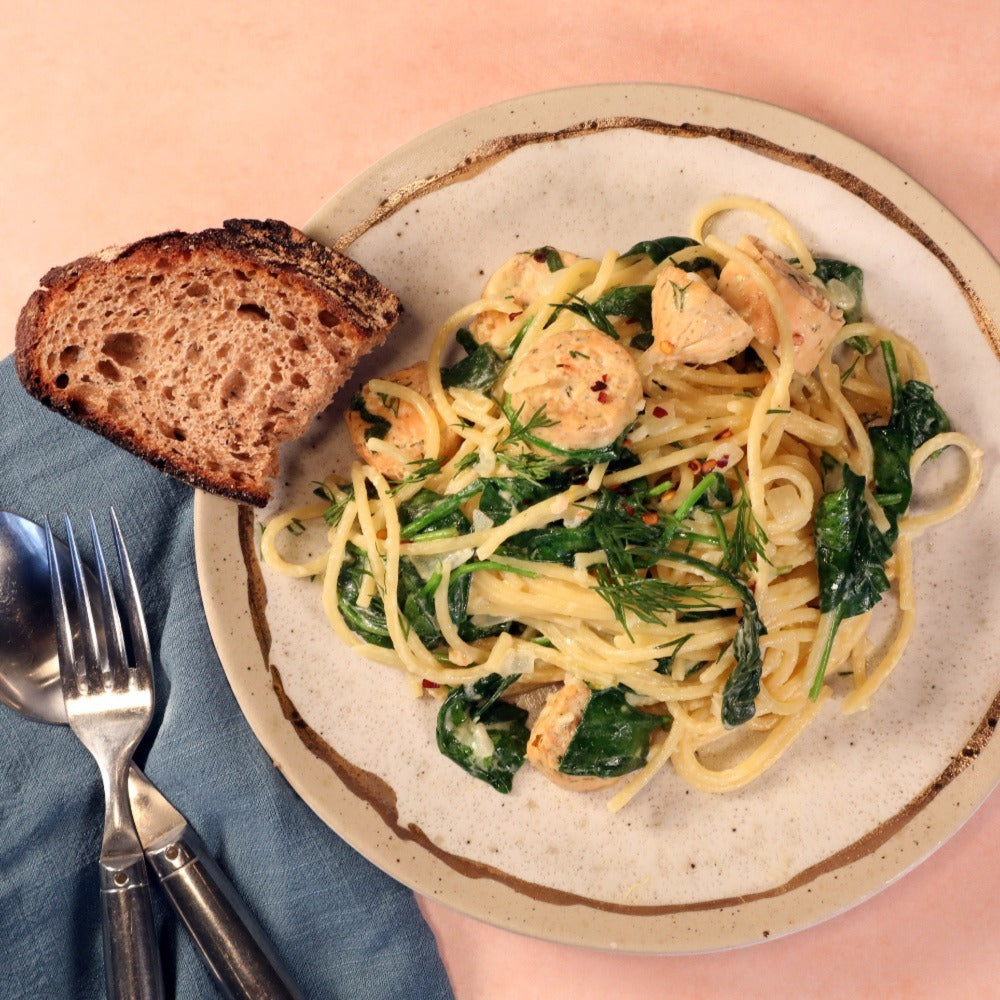 Featuring our brand-new salmon sausage, this one pot pasta dish combines pantry staples into a light, fresh and oh-so filling crowd pleaser. Our Lemon Dill Salmon Sausage works best, but you could swap out with the other flavors for an easy, weeknight dinner. You can further simplify this recipe by preparing the pasta separately as you would normally, and then stir in with the prepared sauce and sausage. Be sure to let us know if you tried it below!
Ingredients
1 tbsp olive oil
1 package Lemon Dill Salmon Sausages 2 links, cut into 1/2 pieces
3 tbsp unsalted butter
1/2 Yellow Onion, finely diced
3 cloves garlic minced
2 cups vegetable or chicken broth
1 1/2 cups half and half
8 oz linguine pasta break into halves
2 1/2 cups baby spinach
1 tbsp dill fresh, chopped
1 lemon, zested
5 tbsp lemon juice
1/4 tsp red pepper flakes
salt and pepper, to taste
Instructions
Heat olive oil in a large skillet, over medium-high heat. Add salmon sausage and cook until golden brown on all sides, about 3 - 4 minutes, remove sausage and set aside. Add butter to skillet. Once melted, add yellow onion, and cook until softened, about 2 minutes. Add garlic and cook until fragrant, about another minute. Slowly add broth and half-and-half, stirring frequently to combine. Add the dry pasta and bring to a slow boil, stirring occasionally. Immediately reduce to a simmer. Cover and cook 12 - 15 minutes, or until pasta is al dente. Remove cover and increase heat to medium. Add in spinach, lemon juice and zest. Stir frequently and cook until spinach wilts, about 2 - 3 minutes. Top with cooked salmon sausage and season with salt and pepper to taste. Garnish with chopped dill and crushed red pepper flakes. Serve and enjoy!