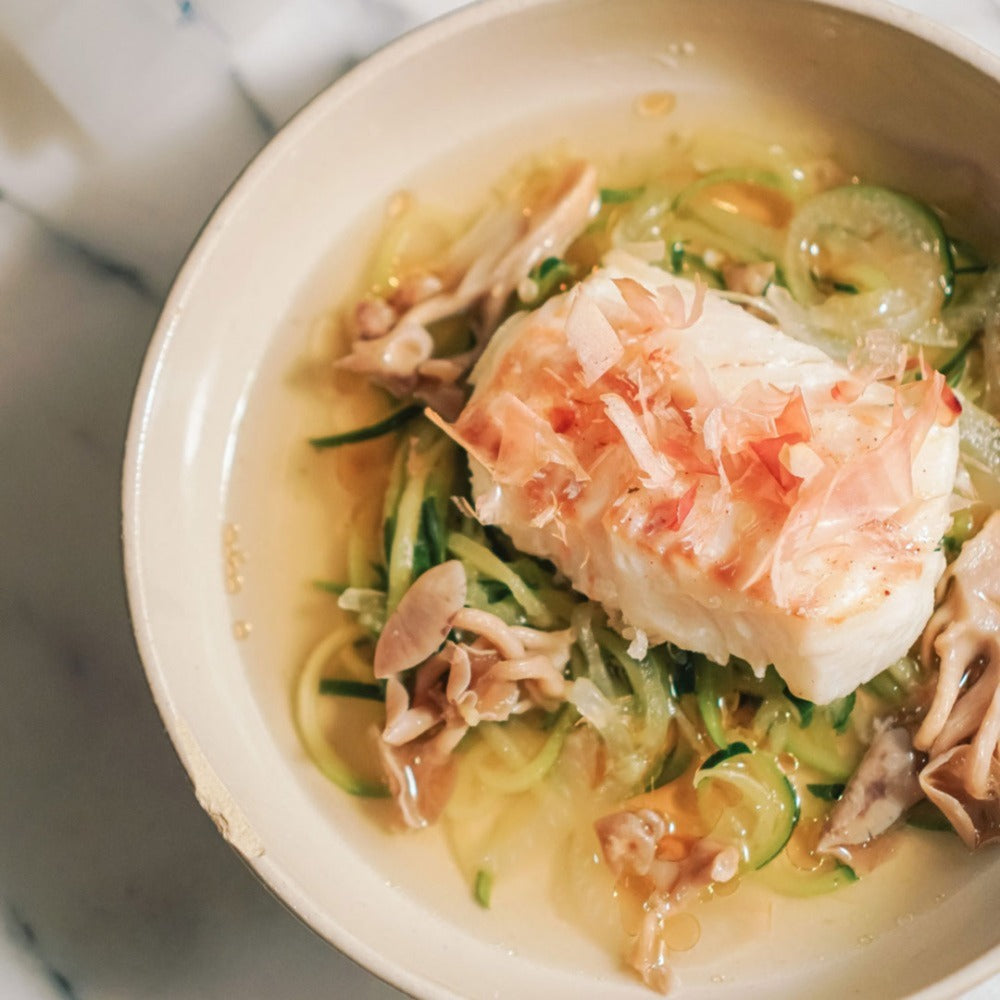 At the intersection of quick, wholesome, and delicious, you'll find this foolproof Japanese Dashi Cod Soup by Live the Little Things. Anchored by a delicate dashi broth, it combines wilty onions, zucchini, and oyster tree mushrooms with our certified sustainable Atlantic Frozen Cod Fillets for a warming soup that's satisfying, light and elegant. Plus, it's super versatile. Don't worry about using oyster tree mushrooms – whatever you have on hand will work great in this recipe.
Ingredients
2 cups water
2- inch piece kombu
1/2 cup loosely packed dried bonito flakes katsuobushi, optional
¼ onion thinly sliced
1 cup oyster tree mushrooms
1 medium zucchini spiralized
½ tbsp pink salt
1 package Wild-Caught Icelandic Cod
2 tablespoons oil; avocado or olive
bonito flakes
toasted sesame seed oil
For the pasta and cod:

4 cups cooked pasta of choice
3 tablespoons pesto
2 tablespoons ricotta cheese
4 cups reserved water from pasta boil
1 package Atlantic Wild-Caught Cod Fillets
2 tablespoons olive oil
Salt + Pepper to taste
Instructions
For the Dashi:
Combine the water and kombu in a 1-quart saucepan and set over medium heat. Remove the kombu from the water just before it comes to a full boil. (Boiling the kombu can make the broth bitter and a bit slimy.) Add the bonito flakes, if using, and let the water come to a rapid simmer. Continue simmering for about 1 minute. Remove the pan from heat and let the bonito steep in the broth for an additional 5 minutes. Strain the bonito flakes from the broth. Add 2 cups water, pouring through the strained bonito. Heat saucepan on a medium to low heat. Add salt, onion, zucchini noodles and mushrooms. Simmer for 10 minutes.
For the Baked Cod:
While the soup is cooking, preheat oven at 400F. Coat Cod with avocado oil and season with salt. Place cod in oven and bake for about 10-12 minutes. When ready, take out of the oven and let it sit. In a bowl, plate onion, zucchini, and mushrooms first. Top with a Cod fillet and gently pour broth. Garnish with bonito flakes and toasted sesame seed oil.