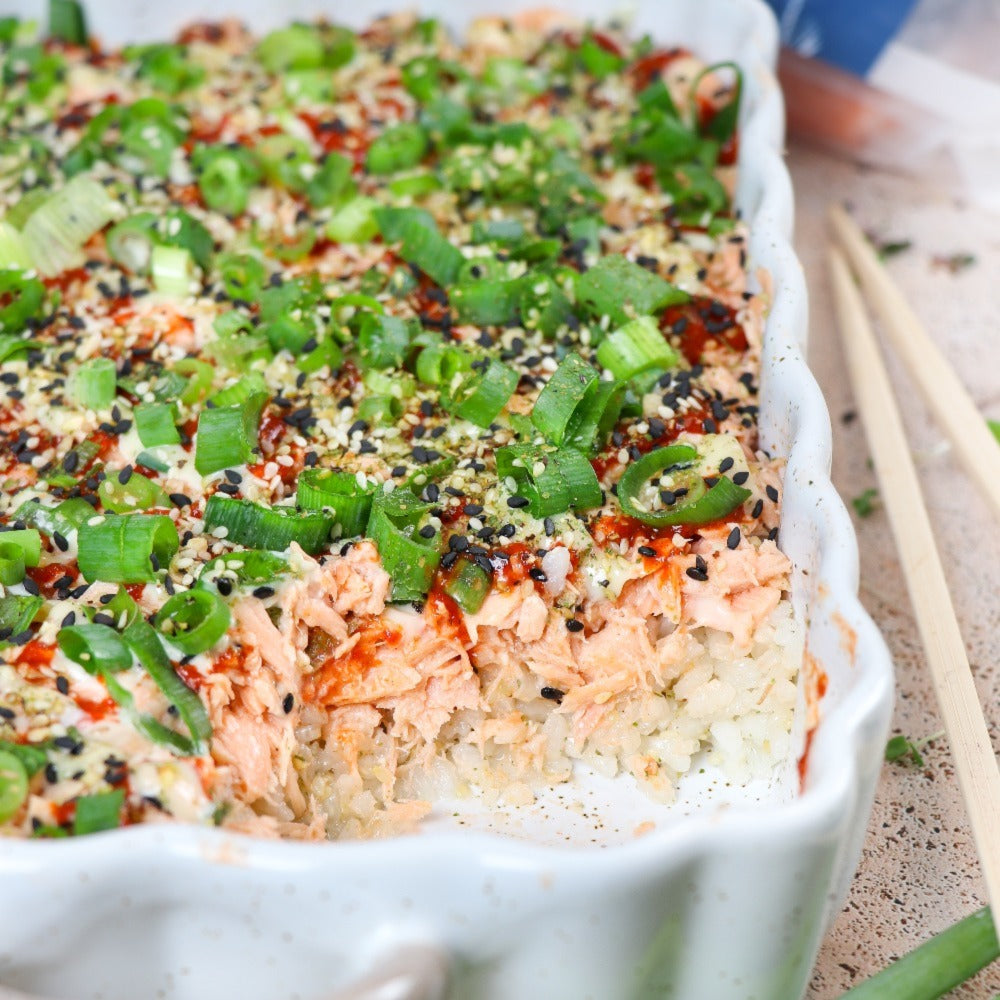 Introducing a quick and easy dinner idea that takes a little twist on traditional sushi! This Salmon Sushi Bake by
A Bright Moment
is ready in less than 30 minutes, high in protein, and incredibly flavorful.
Ingredients
20 oz (4 fillets) frozen  Norwegian Atlantic Salmon, thawed
2 tbsp. Olive Oil
2 tbsp. Honey
1 tbsp. Soy Sauce
2 tsp. Garlic Powder
2 tsp. Salt
1 tsp. Black Pepper
1 cup Sushi Rice, uncooked
¼ cup Rice Vinegar
5 tbsp. Kewpie Mayo
3 tbsp. Sriracha
1 tbsp. Furikake Seasoning
1/3 cup Scallions, chopped
Nori Seaweed Wraps, for serving
Instructions
Preheat oven to 400F. Line a sheet pan with parchment paper. Place the thawed salmon fillets on the prepared pan. Drizzle with the olive oil. In a small bowl, mix the garlic powder, 1 teaspoon of salt, and black pepper together. Season the salmon fillets with the mix. Drizzle 1 tablespoon honey over the salmon fillets. Bake the salmon for 15-20 minutes, until fully cooked through. In the meantime, bring 1 ½ cups of water to a boil. Rinse the sushi rice and add to the boiling water. Reduce heat to a simmer and cover to steam for about 15 minutes, or according to package directions. In a small baking dish, combine the sushi rice, rice vinegar, remaining honey, remaining salt, and furikake seasoning. Mix well then spread out evenly in the dish. Remove the skins off the salmon fillets with a fork, then add to a bowl. Add 2 tablespoons kewpie mayo and soy sauce. Lightly mash and mix until well-combined. Add the salmon on top of the rice and spread out evenly. Top with the remaining kewpie mayo, sriracha, furikake seasoning or sesame seeds, and the chopped scallions. Enjoy with nori seaweed wraps!