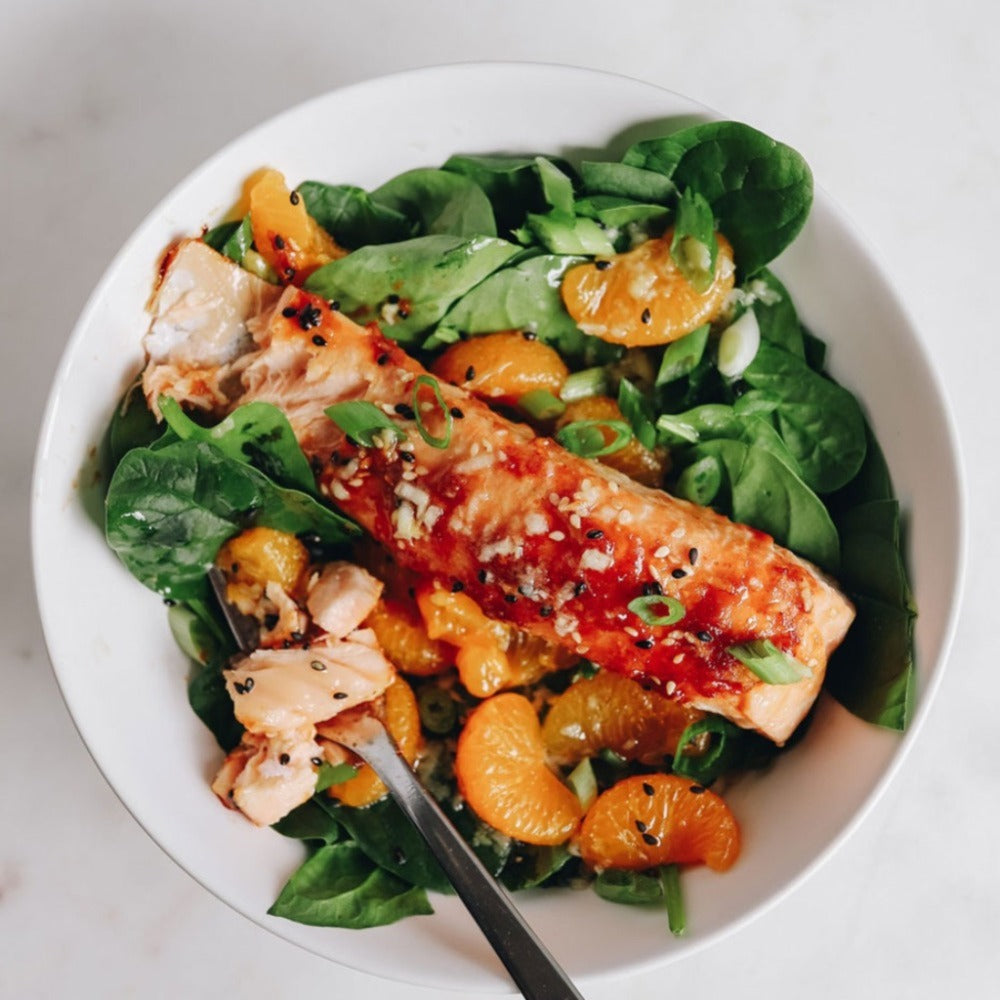 Whisks & Wildflower's Asian Salmon Spinach Salad is the ideal recipe for a weeknight or date night in. The combination of sweet and tangy dressing mixed with fresh spinach and juicy mandarin oranges pairs perfectly with our Frozen Atlantic Salmon Fillets.
Ingredients
For the salad:

1 package of 4 Norwegian Atlantic Salmon defrosted
4 cloves garlic crushed
2 tbsp soy sauce
1 tbsp Sriracha
1 tbsp ginger crushed
2 tbsp honey
1 tsp sesame seeds
2 cups baby spinach leaves
¼ cup mandarin oranges
2 scallions chopped
1 tsp sesame seeds
For the dressing:

2 tbsp sesame oil
1 tbsp rice wine vinegar
1 tbsp ginger crushed
¼ cup lime juice
Instructions
Preheat oven to 350 degrees F. Defrost one package of Blue Circle Atlantic Salmon Fillets. Place salmon fillets on a baking sheet with parchment paper. Mix together garlic, soy sauce, Sriracha, ginger, and honey and spoon evenly onto fillets. Bake at 350 degrees F for 12-15 minutes. While the salmon is baking, place spinach, mandarin oranges, and scallions in a bowl. After the salmon has finished baking, place on top of the prepared salad and sprinkle with sesame seeds. Combine the dressing ingredients and drizzle over salad.