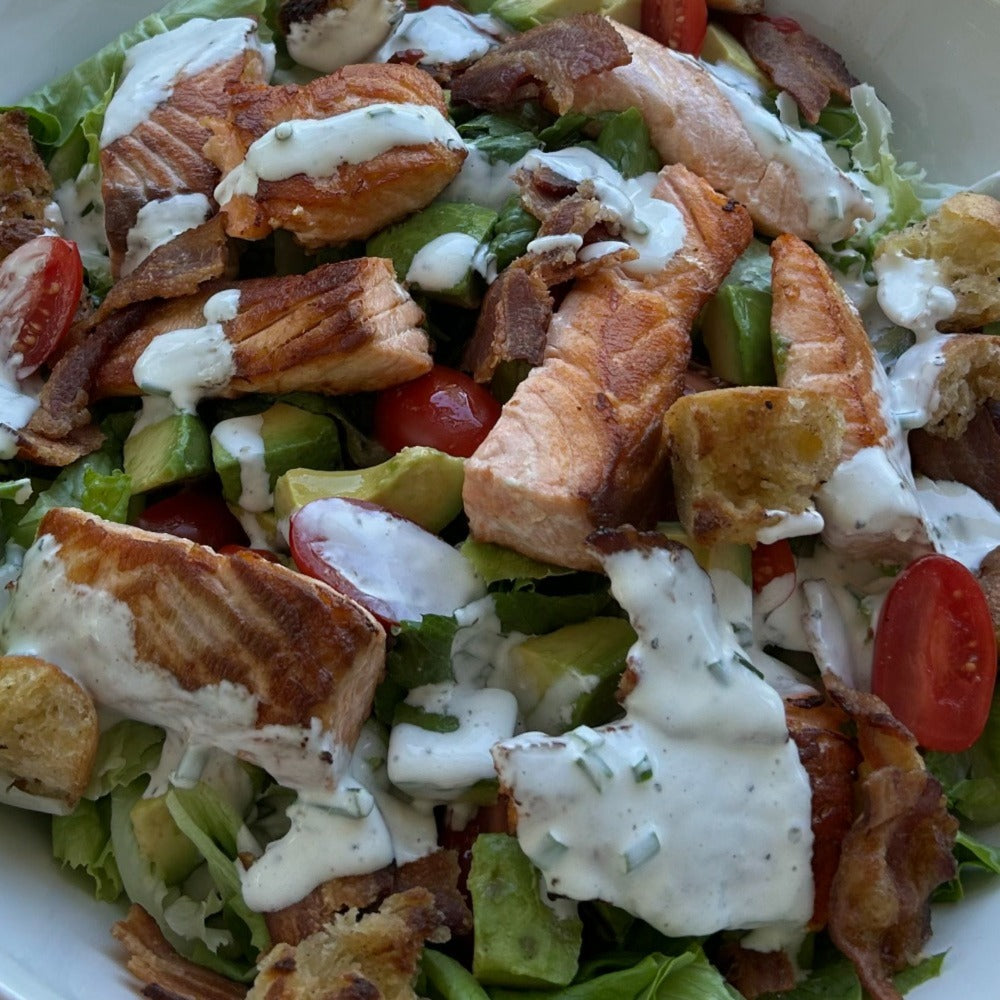 This Atlantic Salmon BLT & Avocado Salad from our test kitchen combines classic BLAT ingredients with Atlantic Salmon and a dreamy Buttermilk Dressing. Oh and did we mention the homemade Rustic Garlic Croutons?
Ingredients
½ head Romaine Lettuce, chopped
1 head Butter Lettuce, leaves torn
1 each Avocado, large, chopped
½ pint Grape Tomatoes, halved
8 slices Bacon, cooked crispy, broken into large pieces
4 portions Norwegian Atlantic Salmon defrosted
1 recipe Rustic Garlic Croutons
1 tbsp canola oil
Buttermilk Dressing, to taste
Buttermilk Dressing:

¼ cup Sour Cream
½ cup Buttermilk
½ cup Mayonnaise
1.5 tablespoon Chives, chopped
2 teaspoons Lemon Juice, fresh
1 clove Garlic, minced
½ teaspoon Kosher Salt
¼ teaspoon Black Pepper, coarse grind
Rustic Garlic Croutons:

½ loaf French Breach, hand torn into 1-2" pieces
3 tablespoons Butter
3 tablespoons Olive Oil
½ teaspoon Garlic Powder
½ teaspoon Kosher Salt
1/8 teaspoon Black Pepper, coarsely ground
Instructions
Using a sharp knife, carefully remove the skin from the salmon portions. Cut each portion in half widthwise. Season both sides of salmon with salt and pepper. Heat a large non-stick skillet over medium heat. Add canola oil and wait until it shimmers. Add salmon portions and cook for 4 minutes. Gently flip and cook for another 3-4 minutes or until desired doneness. Arrange the lettuce in a shallow serving bowl. Top with avocado, tomatoes, bacon, Rustic Garlic Croutons and cooked Atlantic Salmon. Drizzle with Buttermilk dressing.
Buttermilk Dressing:
Place all ingredients in a bowl and whisk until well blended.
Rustic Garlic Croutons:
Preheat oven to 400º. Melt butter and place in a small bowl, add olive oil, garlic powder, salt and pepper and mix well. Place torn bread in a large bowl and drizzle with butter and olive oil mixture. Gently toss bread pieces until evenly coated. Place croutons on a rimmed baking pan and bake for 7 minutes, tossing the croutons. Bake an addition 6-8 minutes or until they are golden/dark brown.