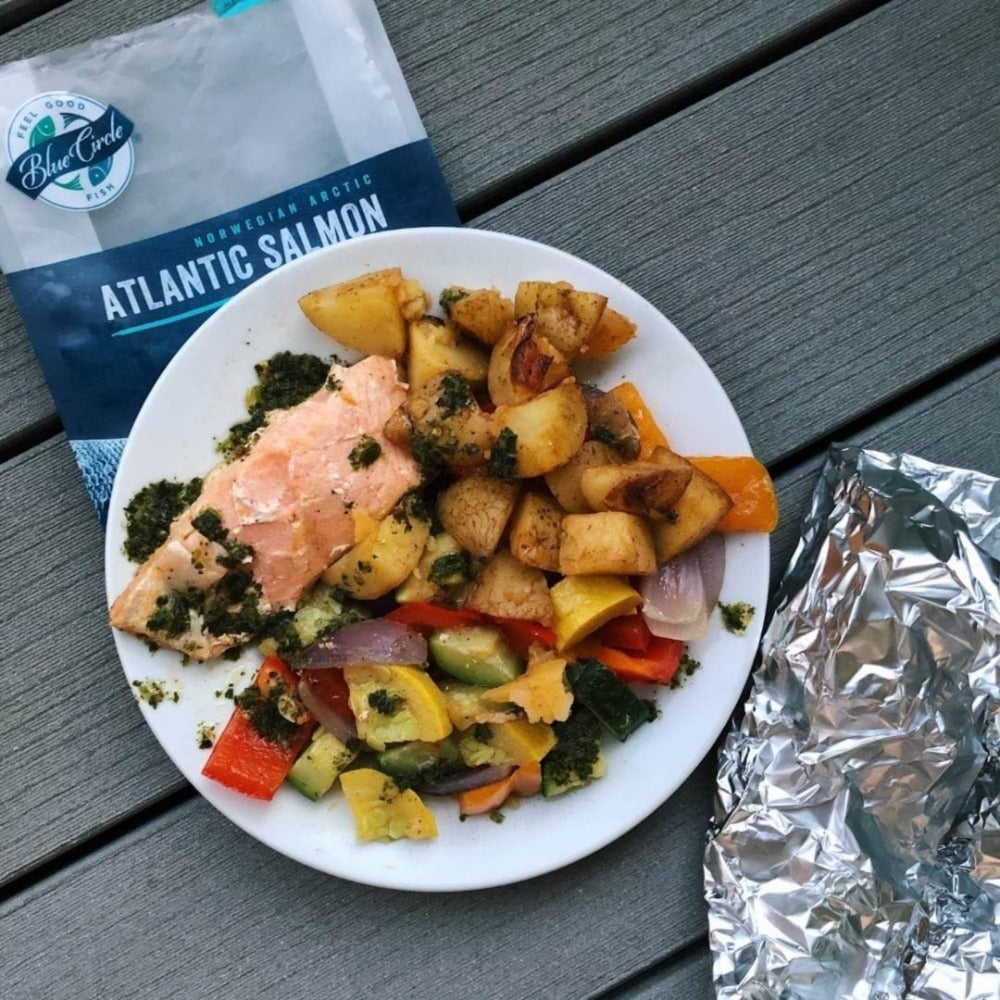 This recipe uses foil packets to create a simple, one pouch meal for the grill. It's also perfect for using up all those extra garden veggies (I'm looking at you zucchini!). Feel free to customize using your personal faves; it's sure to be a crowd-pleaser!
Ingredients
4 portions Norwegian Atlantic Salmon
2 large potatoes
1 zucchini
1 red onion
1 summer squash
1 bell pepper any color
2 tbsp olive oil
salt, pepper and paprika to taste
10 sheets foil rectangular in shape
Instructions
Heat your grill go medium-high, as close to 350 - 375 as you can) Chop your potatoes and season with 1 tbsp olive oil, salt, pepper and paprika. Chop remaining vegetables and season with 1 tbsp olive oil, salt, pepper and paprika Lay aluminum foil on the counter in a "+" formation. You will have 5 piles total, each with 2 pieces of foil. Place seasoned potatoes in center foil packet and tightly seal. Evenly divide seasoned vegetables among remaining 4 packets; nestle a salmon portion in each. Seal the packets tightly. Put the potato packet on the grill (covered) and cook for 15 minutes. Remove, open and stir the potatoes. Replace on grill for another 15 minutes. When returning potatoes to the grill, add your other 4 packets of vegetables and salmon. Cook 15 minutes. Plate and top with a homemade or pre-made chimichurri sauce and enjoy!