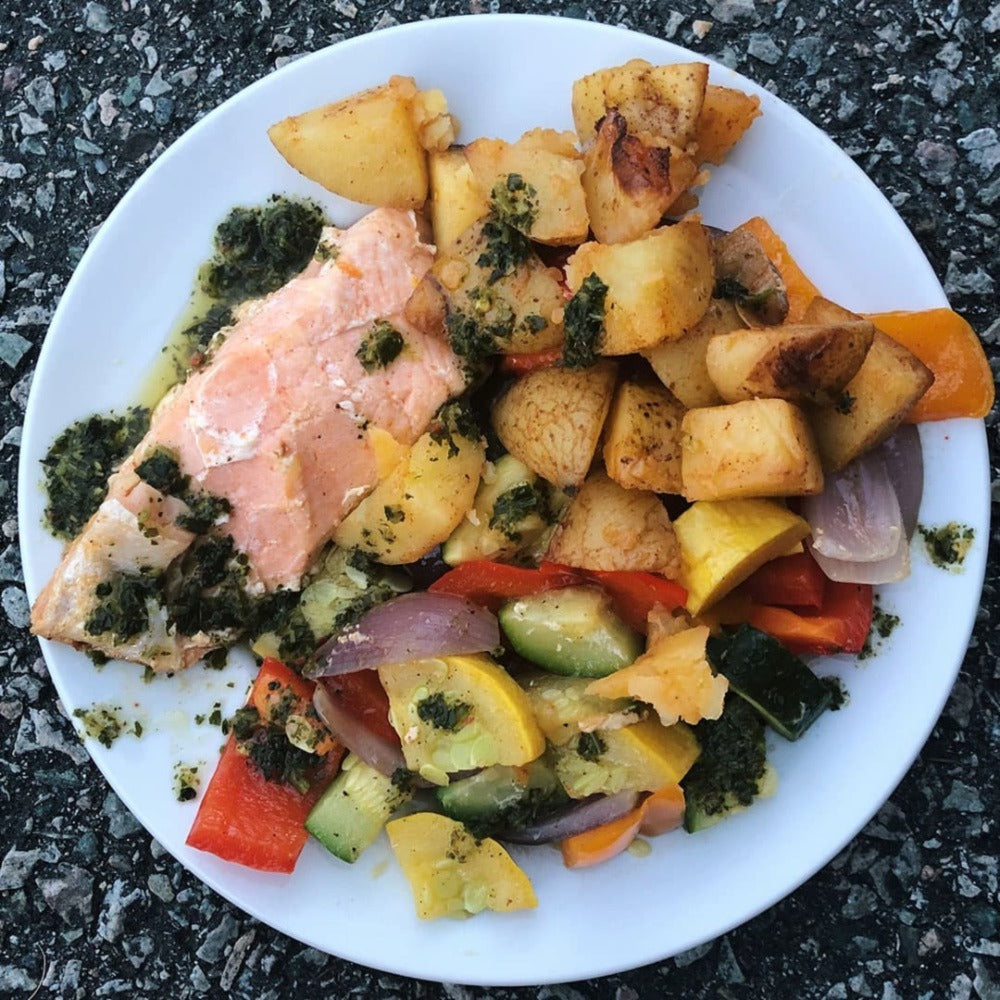 This recipe from Molly Cleary is the perfect way to experiment with grilling foil packets. We love her pairings of Blue Circle Atlantic Salmon with fresh summer vegetables and hearty potatoes topped with a tasty Chimichurri sauce.
Ingredients
For the Salmon:
1 package of Norwegian Atlantic Salmon
2 large potatoes
1 zucchini
1 red onion
1 summer squash
1 orange bell pepper or any color you prefer
2 tbsp olive oil
Salt pepper, and paprika to taste
10 rectangular sheets of aluminum foil
For the Chimichurri Sauce:
1 shallot minced
1 serrano pepper minced
3 garlic cloves minced
1/3 cup red wine vinegar
1 tsp. sea salt
½ cup cilantro finely chopped
¼ cup parsley finely chopped
2 tbsp oregano finely chopped
¾ cup olive oil
Instructions
For the Salmon:
Heat your grill to medium-high heat (as close to 350-375 degrees Fahrenheit as you can get). Chop your potatoes and season with salt, pepper, paprika, and 1 tablespoon of the olive oil. Chop your vegetables and toss with salt, pepper, and the other tablespoon of the olive oil. Lay rectangles of aluminum foil on the counter in a "+" formation (you will have 5 piles; each will have 2 layers). Place seasoned potatoes in one packet and tightly seal the packet shut. Divide your seasoned vegetable evenly among the remaining 4 packets. Nestle a salmon fillet into each packet. Seal the packets tightly. Put the potato packet on the grill (covered) and cook for 15 minutes. Remove, open, stir the potatoes, and put back on to the grill. Add the other 4 packets of vegetables/salmon at this time. Cook for 15 minutes (potatoes will be a total of 30 minutes). Transfer to a plate and top with chimichurri sauce. You can use premade sauce or try our recipe.
For the Chimichurri Sauce:
Add the shallot, serrano pepper, garlic, vinegar, and salt in a bowl. Let sit for 10-15 minutes. Stir in remaining herbs and olive oil. Whisk to combine.