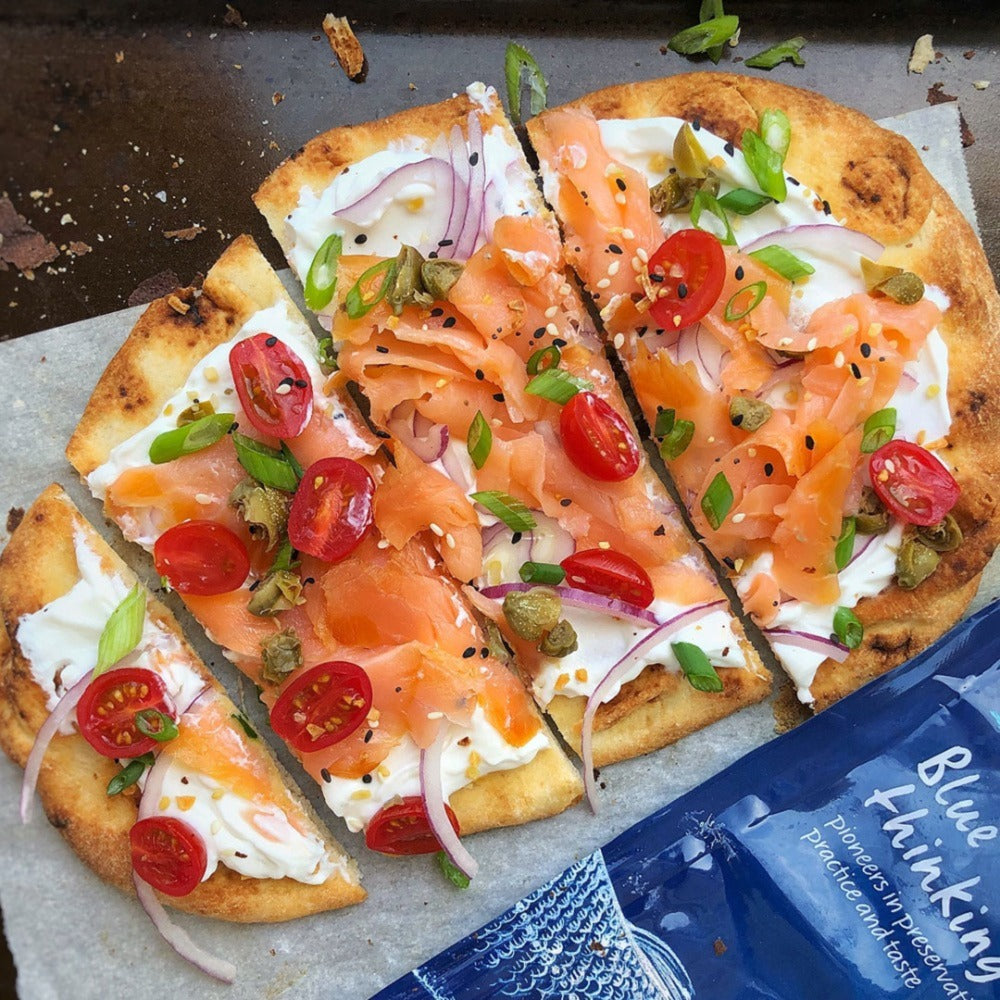 Recipe courtesy of The Cutting Veg.
Want to take your bagel and lox game up a level? Try this Smoked Salmon Naan Flatbread – it features our sustainable smoked salmon plus the classic pizza toppings like tomatoes, sliced red onion, capers and fresh dill. Sustainable seafood never tasted so good.
Ingredients
For the flatbread:

2 naan flatbreads toasted
4-5 pieces  Smoked Atlantic Salmon 8 oz
10-12 cherry tomatoes halved
½ small red onion thinly slices
2 tablespoons small capers rinsed and patted dry
1-2 green onions thinly sliced
Salt + pepper
Everything bagel seasoning optional
For the yogurt sauce:

1/3 cup Greek yogurt whole milk works best
2 ounces goat cheese
zest if 1 lemon
1/4 cup fresh dill chopped, divided
Salt + pepper
Instructions
To get started, line a colander with either a paper towel or nut milk bag and set it over a bowl. Add the Greek yogurt and allow it to strain over a bowl for 10-15 minutes. This step is optional but makes for a very creamy sauce. While your yogurt is straining, place your naan either in a 350-degree oven or in a toasted oven set at 350 degrees for 5-10 minutes, until warm and slightly toasted. Once the yogurt is strained, add to a bowl, and stir in goat cheese, lemon zest, and 2 tablespoons chopped dill. Season with salt and pepper. Set aside. Assemble the flatbread. Spread yogurt sauce over naan bread. Top with smoked salmon, cherry tomatoes, red onion, and capers. Sprinkle reserved dill over flatbread and sprinkle with salt, pepper, and everything bagel seasoning, if using.