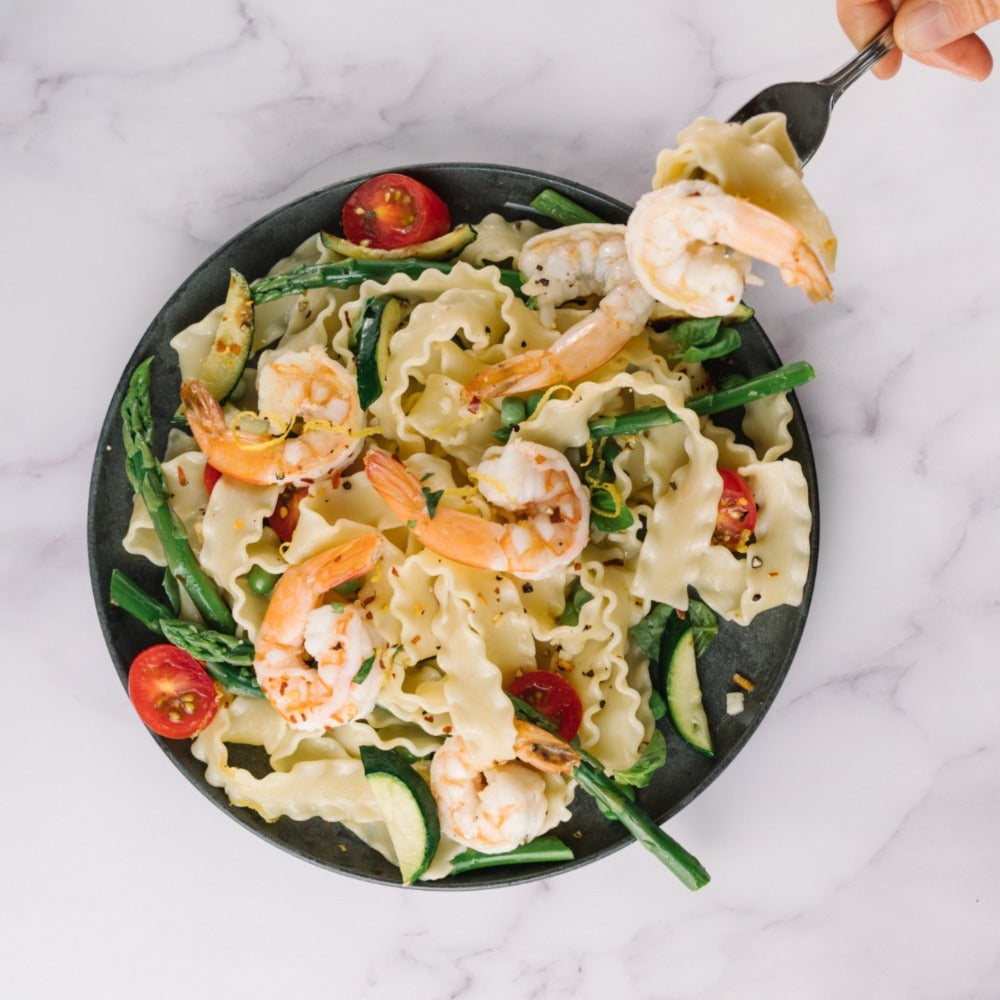 A light, summery take on traditional Shrimp Alfredo, this Shrimp Pasta Fresca sneaks in a ton of veggies and super-clean protein, thanks to our sustainable raised Raw Pacific White Shrimp. You can sub in any veggies you like, which makes the recipe great for using up those fridge odds-and-ends. Just make sure everything is fresh and you've got yourself a quick, delicious, and healthy dinner.
Ingredients
1 package Pacific White Shrimp thawed
12 oz pasta mafalda or farfalle
1 tbsp extra virgin olive oil
2 tbsp butter
1/2 tsp red pepper flakes
1 lemon juiced and zested
4 cloves garlic minced
1 cup cherry tomatoes halved
1 zucchini halved lengthwise and thinly sliced crosswise
1/2 cup frozen peas
1 bunch asparagus cut into 2-inch pieces
freshly grated Parmesan
1 tbsp Italian parsley
Salt & freshly cracked pepper to taste
Instructions
Cook pasta per instructions on package. While pasta is cooking, heat 2 tsp olive oil in large skillet over medium high heat. Pat shrimp dry with a paper towel and season with salt and pepper. Add shrimp to skillet and cook for 2-3 minutes, until shrimp is opaque and cooked through. Remove shrimp from skillet. Add a drizzle of olive oil to the skillet if dry. Add garlic and red pepper flakes and cook for 1 minute, stirring frequently. Add asparagus, peas, zucchini and tomatoes and cook till softened, 3-5 minutes. Season with salt and pepper. Add cooked pasta, lemon zest and butter to skillet. Cook 1-2 minutes until thoroughly combined. Turn off heat. Add lemon juice and parsley to skillet. Stir to combine. Top finished pasta with grated Parmesan.