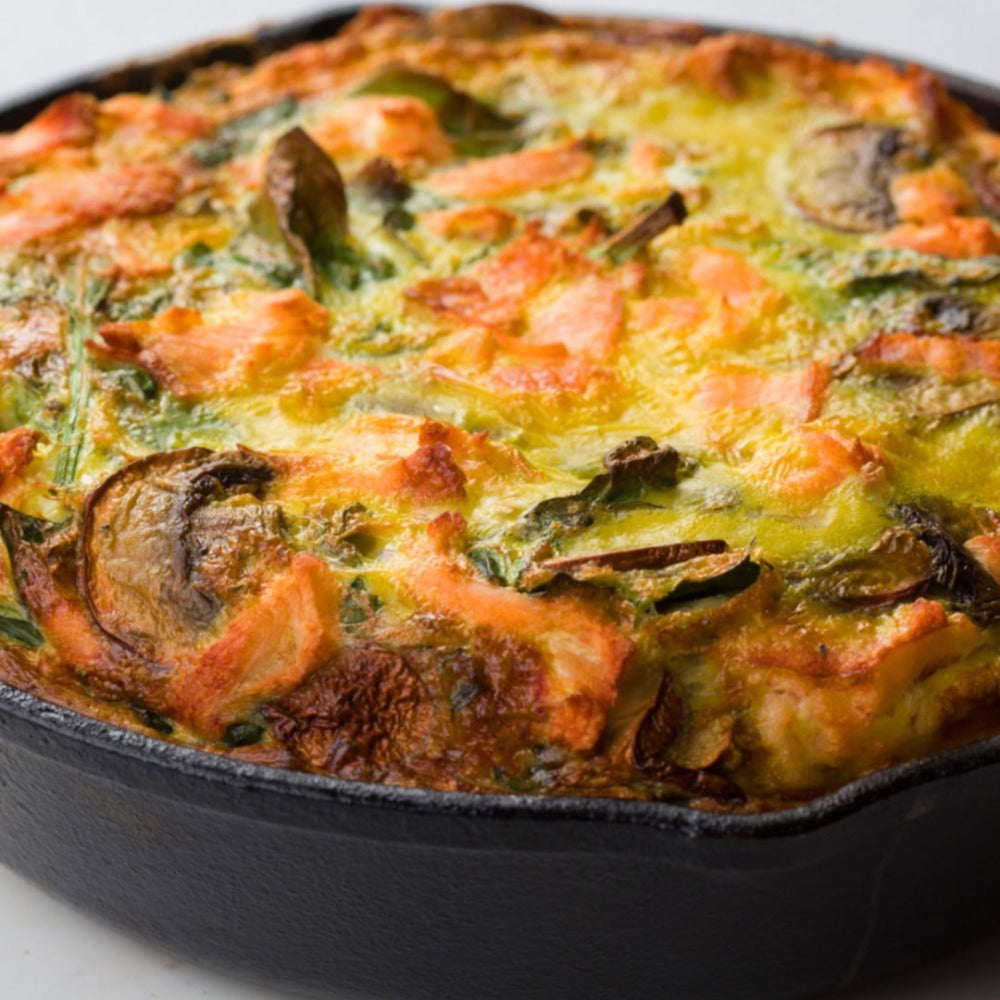 This protein and veggie packed Smoked Salmon Frittata delivers on omega-3s and antioxidants. Made with our sustainable smoked salmon, mushrooms, spinach and fresh herbs, this nutritious breakfast recipe will start your day off right.
Ingredients
8 large eggs
1/2 cup whole milk
1/4 cup chopped fresh chives
1/4 cup chopped fresh basil
1/2 teaspoon black pepper
A pinch of salt
2 teaspoons olive oil or vegetable oil
2 oz cold cream cheese cut into 1/2-inch pieces
4 oz thinly sliced Norwegian Atlantic Smoked Salmon chopped
Optional: ½ cup of sliced mushrooms and ½ cup of chopped spinach
Instructions
Whisk together eggs, milk, chives, basil, pepper, and salt in a bowl. *Optional add vegetables to mix. Preheat broiler Heat oil in a 12-inch ovenproof nonstick skillet (make sure there is no plastic on the skillet) on stovetop. Pour egg mixture into skillet and scatter cream cheese pieces on top, then cook, lifting up cooked egg around edges using a spatula to let raw egg flow underneath, until frittata is set on bottom and egg is almost set but still moist on top, 3 to 5 minutes. Remove from heat. Sprinkle salmon around the skillet for even coverage, then shake skillet to allow salmon to settle into top. Place frittata for about 5 minutes under the broiler, about 6 inches from heat until slightly frittata gets puffed and golden in patches. Cool 5 minutes, then loosen edge with spatula and slide onto a large plate. Cut into wedges and serve warm or at room temperature. Garnish with thinly sliced red onion.